Promaster Van Conversion Prelude – Purchasing & Planning in Sketchup
~ By Jonny
Published May 5, 2017
Her name is Moose
We finally made the jump and got the van! After years of dreaming alone, years of dreaming together, we finally pulled together and bought a brand new hightop Dodge Promaster van to convert. It's definitely been a little scary making the leap financially, but in the end it has worked out almost more perfectly than we could have imagined, and we are incredibly excited for the future.
The details…
2014 Dodge Promaster 2500 (based on the Fiat Ducato)
44,000km
159″ wheelbase
3.7L V6, FWD
Rear windows only, we cut in our own sliding door window from JRLawrence Windows in Calgary
Interior Dimensions – Approximately 6'2″ W, 6'2″ H, 12′ L
The Plan…
Convert it! The main goal is essentially a 2-stage conversion. Stage 1 (a more affordable conversion) is to build the van out for the next ~3 years on a bit of a budget, and incorporating features for our daughter who is 12 this year, and who will be joining us on many of our adventures.
After a few years, we will be rebuilding portions of the van for the longer term. This will include a small shower, full propane hookups, hot water, and higher end electrical systems, among many other additions.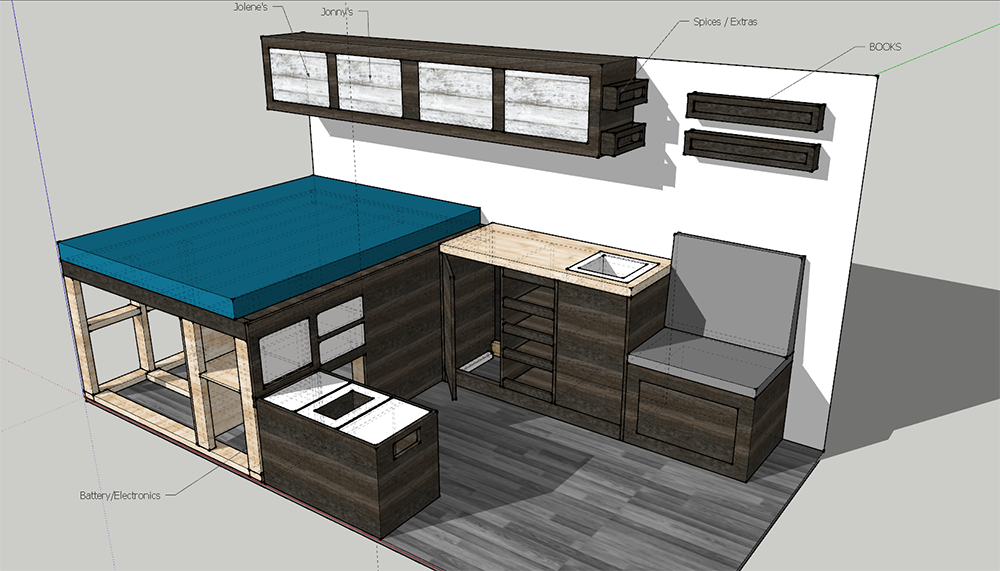 The initial build out will have the following features
100W Solar / 75 AH AGM battery (soon to be doubled upgraded to 200W/225AH)
Hand pump water faucet w/ 25L fresh water tank
15″ sink w/ 25L grey water tank
Queen size bed frame over the garage w/ foam mattress
DIY Composting toilet (to be blogged later!)
6 LED lights, switches, etc, and a set of strip lights.
12V iceless cooler
Garage
Cedar paneling
Maxxair Fan
JRLaurence aftermarket window for the passenger side sliding door
Stay tuned for more info as we build out the van!