Mount Field Ski Touring – A Little Yoho Classic
~ By Jonny
Published October 26, 2021
Mount Field is a classic backcountry ski tour located in Little Yoho just west of Lake Louise and Banff National Park. Now… the word "classic" gets thrown around a lot. So lets get one thing clear – Mount Field is definitely a true Canadian Rockies Ski Tour.
What makes it a classic? It has all the ingredients. Huge elevation gain (almost 1,500m from the car to summit), a full 1,200m run from the summit, a perfect viewpoint with a sea of peaks in all directions. Most importantly, when the snow is good, Mount Field is a close to perfection for moderate, big mountain skiing.
Despite being one of the best ski tours the Rockies have to offer, it can be a tricky summit to tag. Poor visibility, and often scary windslab on the final "headwall" pitch below the summit have turned away many people, year after year. This is definitely more of a "Ski Mountaineering" objective, so it is best to start early. Leaving the car by 8am is a good way to improve your chances of a successful summit.
Mount Field Overview
Round Trip: ~18.5km
Elevation Gain: ~1,450m
Mount Field is definitely a big day. Even taking the "shortcut", it's roughly an 18km round trip. If you are ticking the summit, be prepared for a big day of elevation gain. Getting to the upper benches is around 1,200m from the car, and ticking the summit is a full 1,450m day. Definitely not a good objective to take someone new to the sport (unless they like suffering!)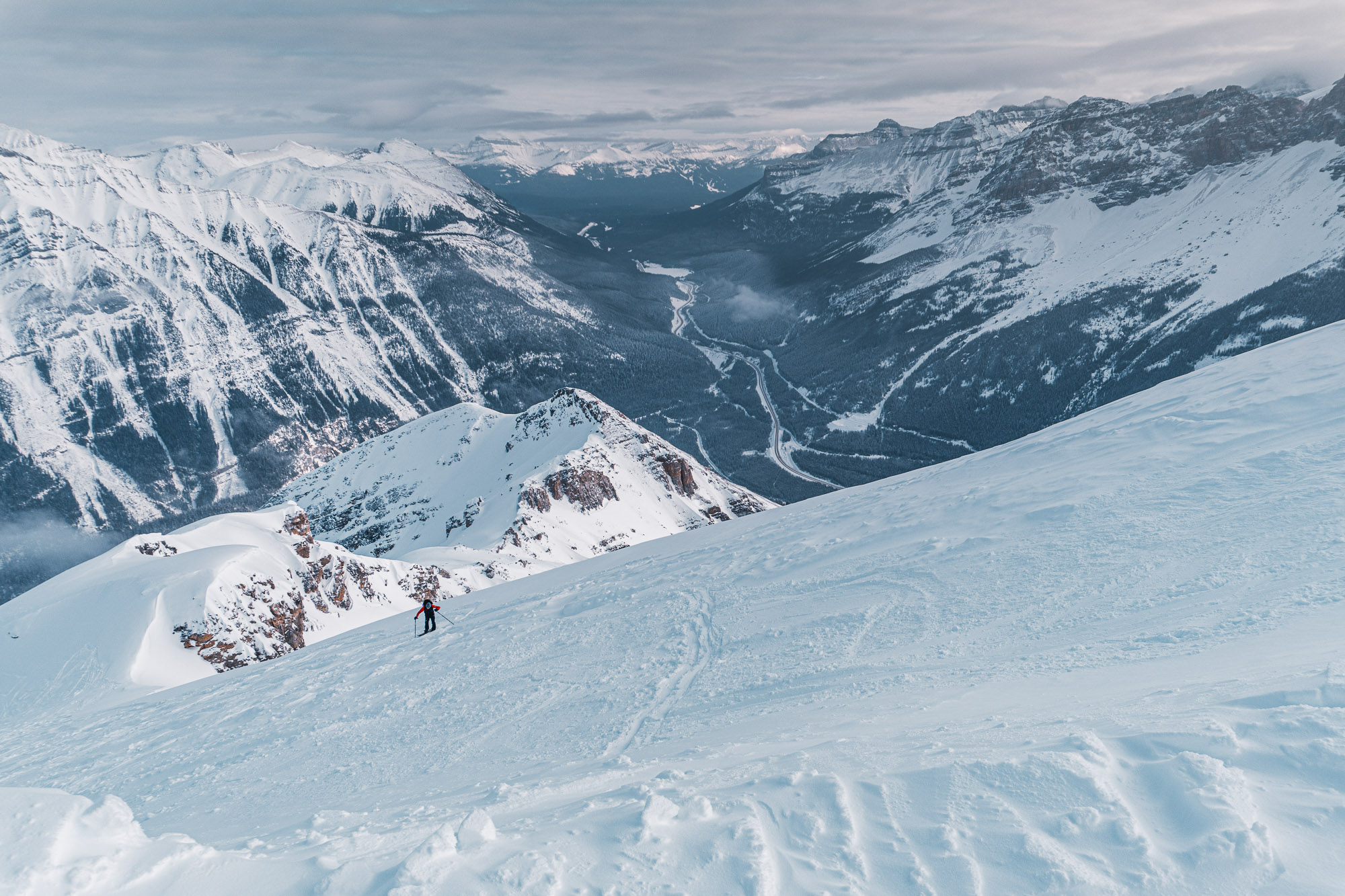 The mountain itself is relatively mellow for most of the day. The mid slopes are somewhat low angle, which helps to mitigate some of the risk of avalanche. However, the higher you go, the slopes to start to steepen. The overhead hazard also ramps up quickly as there is often wind slap, and large cornices looming above.
The weather is also a bit of a fickle beast on Mount Field. Bad visibility on the upper slopes are common. Field is not a fun mountain to be in a whiteout or high winds. Fortunately, the mid/lower slopes offer tremendously good skiing in inclimate weather, so it is easy to salvage a bad weather day here with some laps.
Beyond the upper bowl, the headwall pitch is certainly something to take seriously. When conditions are bomber, it is a little bit steep & exposed, but not too difficult for an experienced skier. However, wind slab and other problems are common here, and this is definitely not a good slope to tackle when there is any hint of slabs or other issues. It is more than steep enough to slide, and there is a fair bit of terrain up there.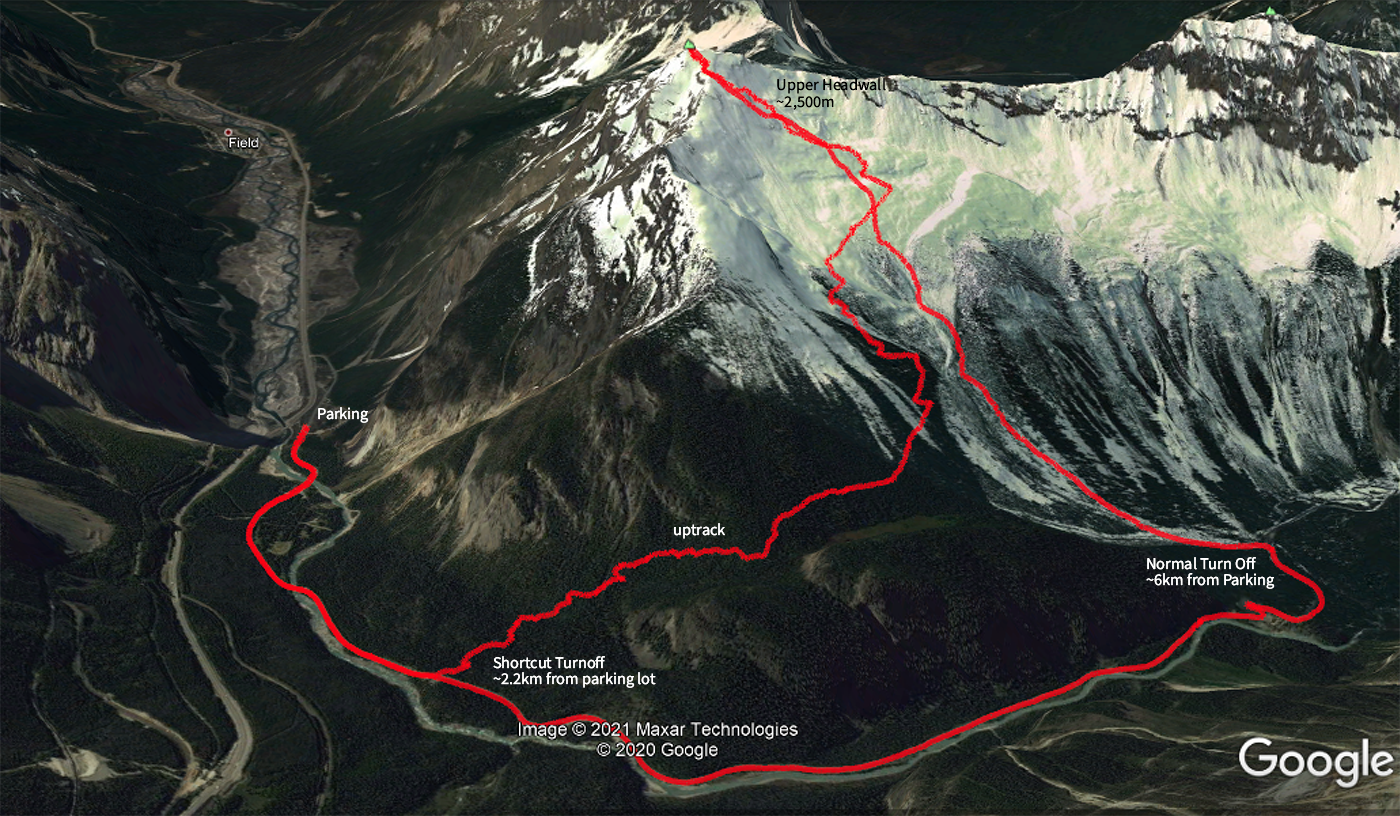 Mount Field Ski Touring Access
There are two ways to access Mount Field. The traditional method is to park at the Takkakaw falls campground parking, just outside Field and ski the Tak Falls road for roughly 6 kilometers to where the obvious avalanche path / drainage provides access all the way to the summit.
However, a modern access strategy is to only ski about 2.1-2.2km from parking to an information sign, and cut left into the forest (see map). A bit of a technical schwack will gain you a bench with a small lake. Traversing and gaining elevation for a few kilometers will get you across several smaller avi paths, and spit you out right where the main path opens up below Mount Field.
This "shortcut" is a great way to cut off nearly 4km of slogging up the road. Instead, you gain elevation quickly and early in the day. If there is no existing skin track, this option can be a little sporty for the first 1-2 kilometers, but it rapidly mellows out as you go.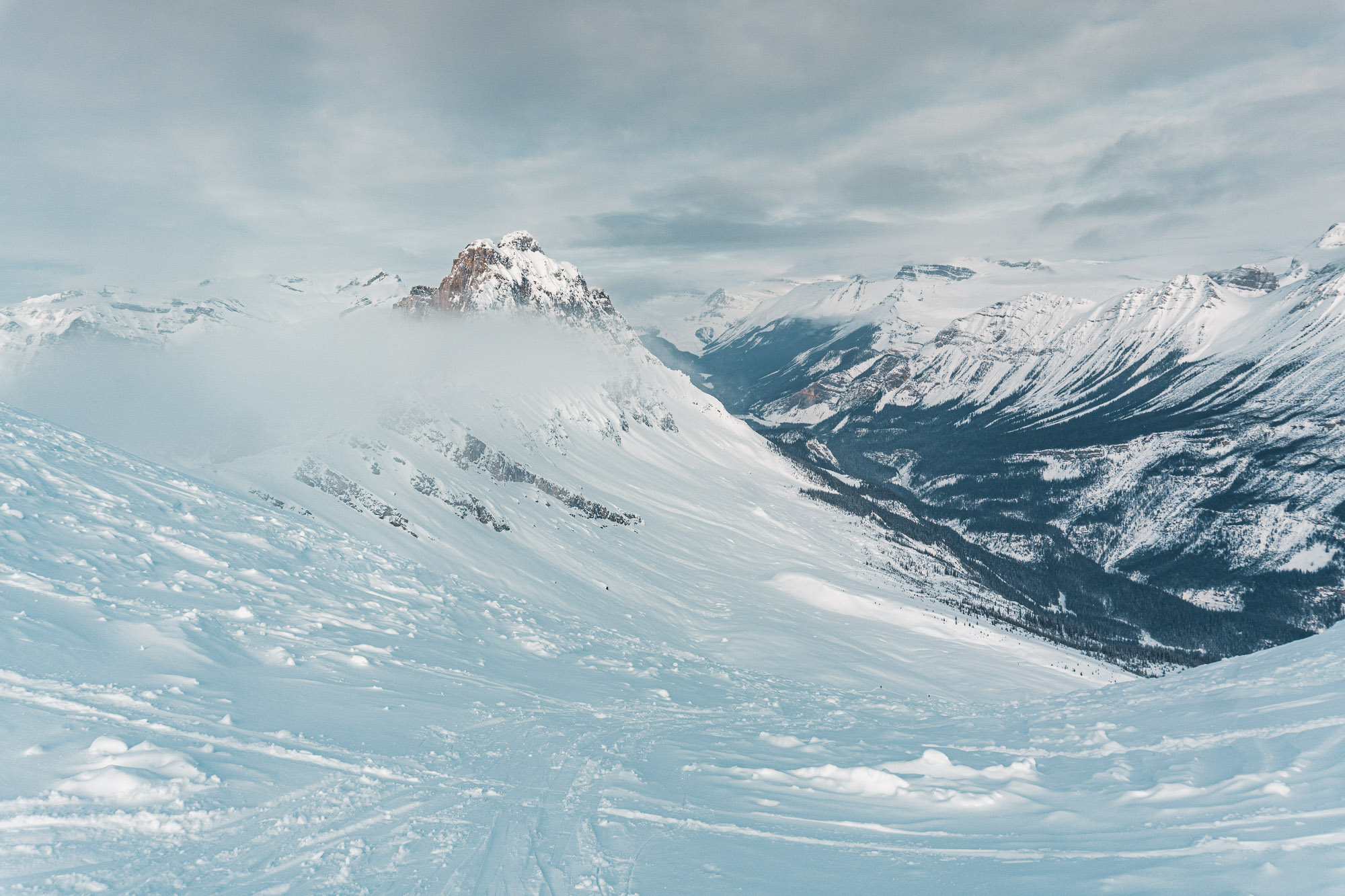 Regardless of which option you take, you eventually arrive at the upper benches of Mount Field. A number of large open slopes with numerous small rolls continue provide access up until you reach a large open bowl below field. From here, you can rip skins and enjoy an incredibly 800-900m run to the road, yoyo the upper slopes, or continue on to the summit.
For the summit, you will need VERY stable conditions. Just above the bowl, there is a steep gulley leading to a short, but very steep headwall below the summit of field. This slope is easily accessed in good solid conditions, but can be a significant hazard if there is windslab. Check Avalanche Conditions always before you go.
If conditions are good, kick turn your way up the headwall, and follow the depression to the col between Mount Field and the sub peak. From there, another 80m of gain directly west will have you on the summit in no time.
Mount Field Ski Touring Descending Options
For descent, you can either opt to retrace your tracks back down to the bowl and follow the large avalanche path to the road. Optionally, you can instead traverse around the subpeak at the col, and if conditions are bomber, you can ski the East face directly down to the middle of the bowl. This is an excellent run with good snow. However it requires good stability as it is has a very high potential for avalanche.
No matter which way you go, follow open slopes and mostly open paths all the way back down to the road and prepare yourself for a truly awful 6km slog back to the car.
Mount Field Summary
Mount Field is a truly classic backcountry ski tour for the Canadian Rockies. Some of the best skiing anywhere can be found here. The vertical is nearly unmatched, and more than makes up for the long and arduous slog into the area.
As this peak gains popularity, it is likely to be skied out more often than not. However, the large area of terrain should garuantee that you will find a few fresh tracks no matter what.
Even though the summit is a very worthy objective, this is a great spot to get some laps in, and offers some incredibly good glades and open slopes. The quality of Mount Field is hard to beat anywhere.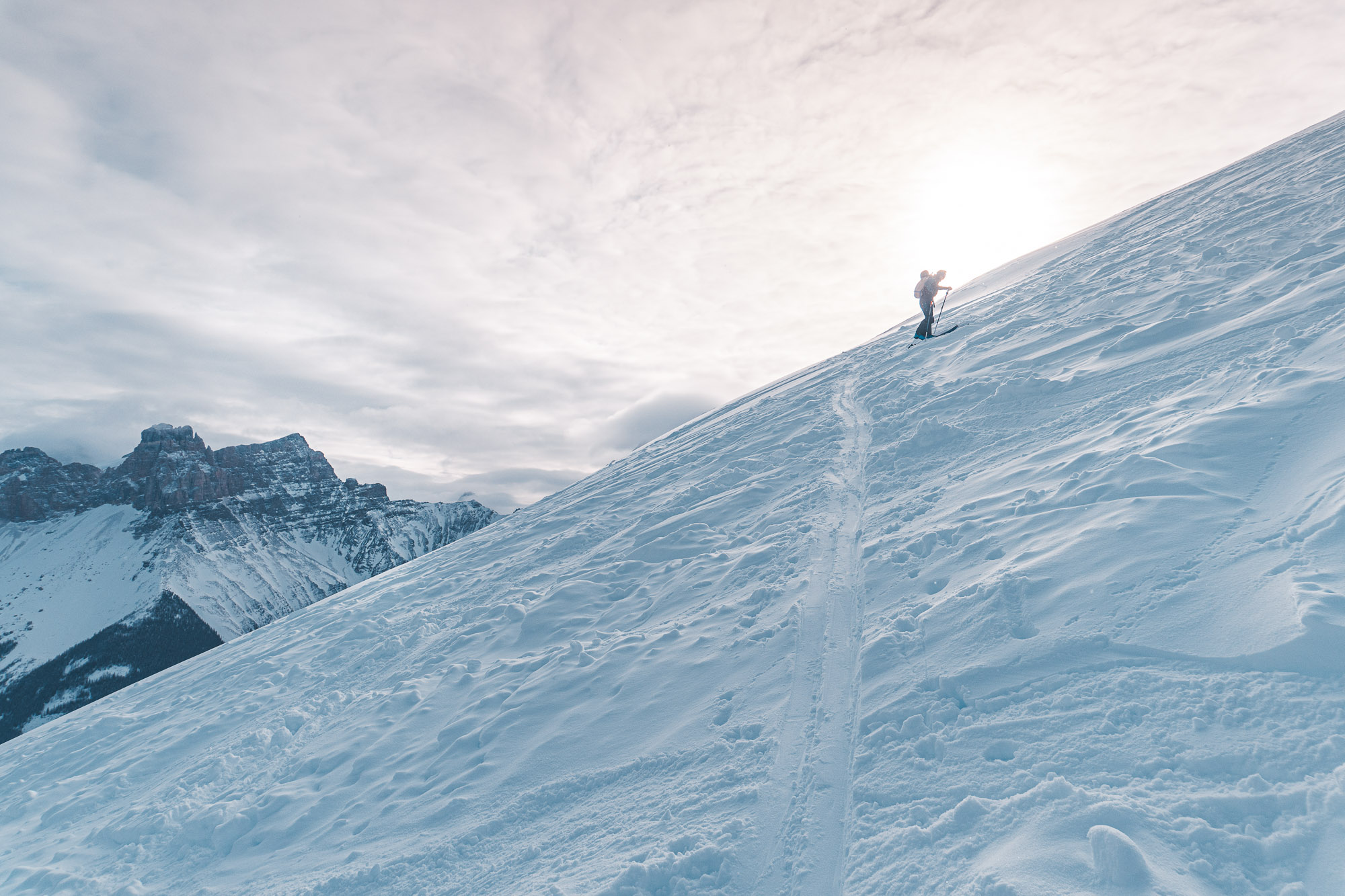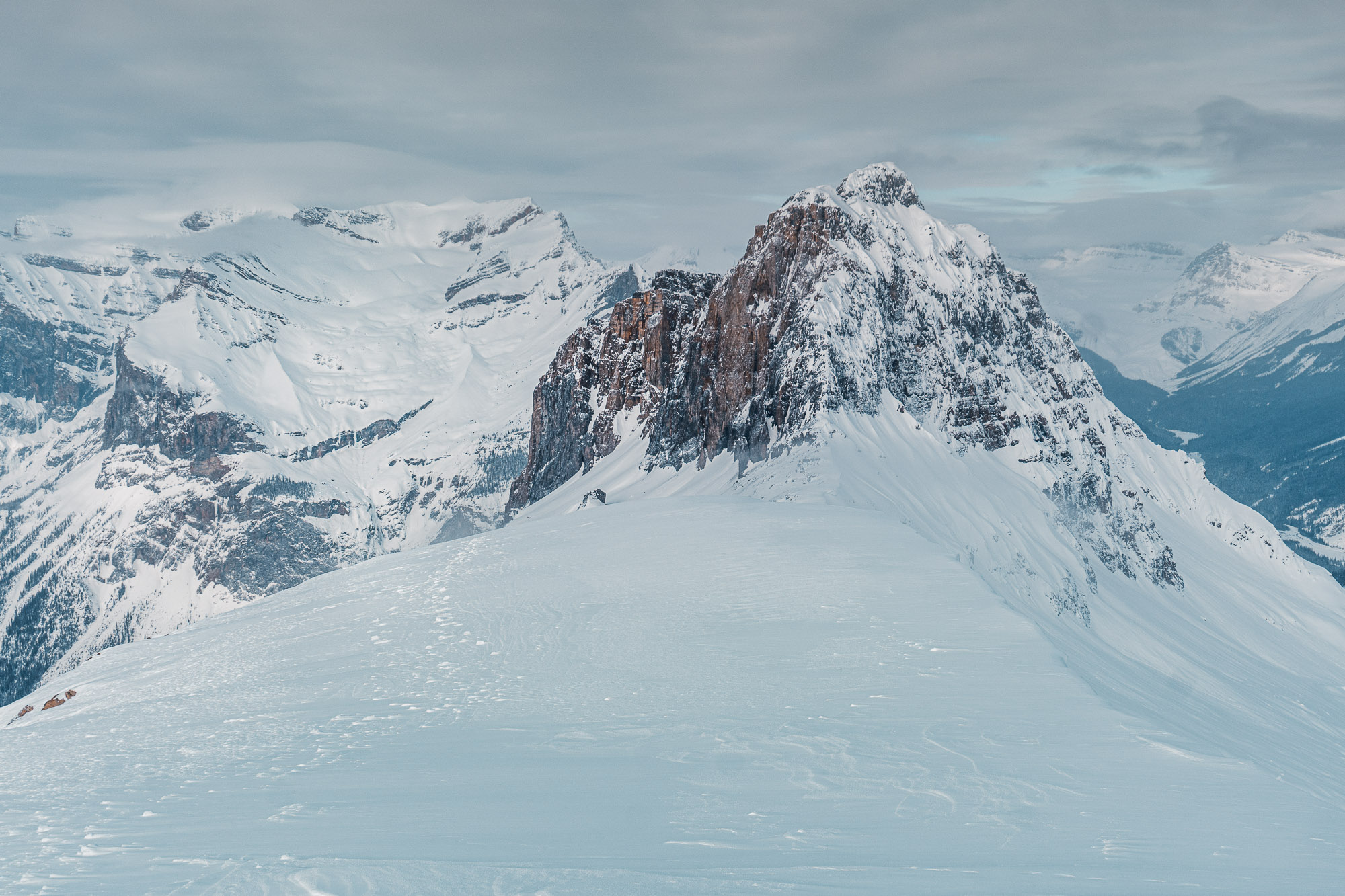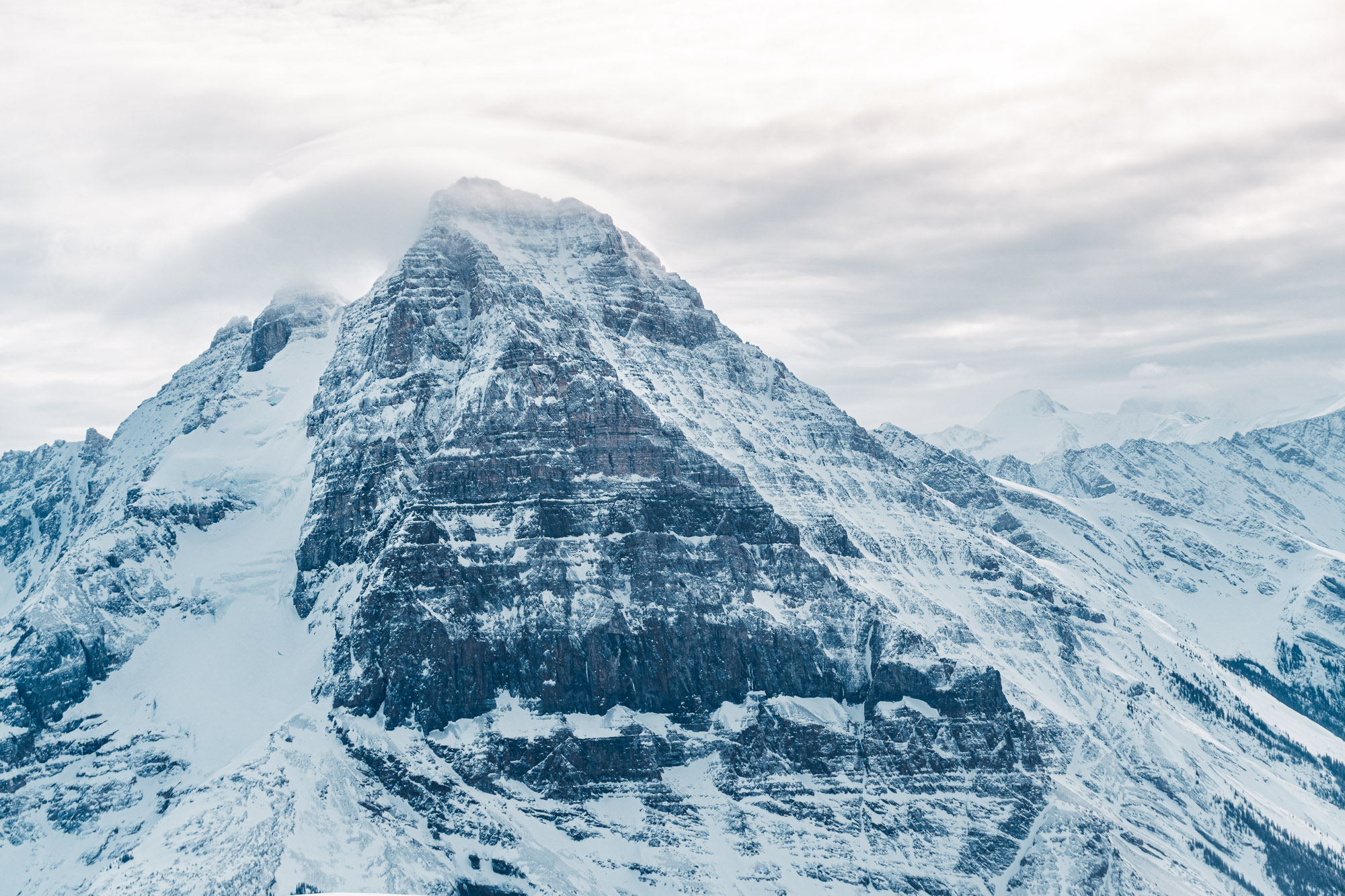 ---
Become a Patron!
---
Share this post