Climbing the Bugaboos, 2016
~ By Jonny
Published July 30, 2016
I'm no stranger to the Bugaboos. I first visited in 2014 with my friend Tyler. It had been a dream to visit the Bugaboos since I first learned of their existence sometime in the early 2000's. As I entered the rock climbing world, it was immediately clear that the Bugaboos were more than just another climbing destination, the area is a world class Alpine Climbing venue featuring some of the most historic, and high quality granite on the planet.
The first trip with Tyler involved a lighting-fast weekend that featured a flat tire on the logging road (end subsequently setting up our tent in the dark), dragging ourselves out of bed the next morning at 3am, and tagging the summit of Bugaboo Spire in a rain storm, and slipping into a Crevasse on the way down the Col. The day after that involved a rip up McTech Arete in nearly perfect weather, and a slog back out to the car. Through the fog of exhaustion, and less than perfect conditions, I fell in love with the Bugaboos… and from then on, I made it a point to go back every year I possibly could.
In 2015, after some life changes, Jolene and I made it up to the Bugaboos for a quick weekend camping trip, sans climbing. Even for only one night, it was enough for Jolene to take in the beauty of the place, and fall in love with it as well. It was clear that a longer trip involving climbing was in order for the following year.
2016… A real Bugaboos Trip
In 2016, we finally made a real trip to the Bugaboos. Our goal was to get there, spend a few days and see what happened. We had a tick list of routes, knowing that weather, fitness, comfort, and conditions would ultimately decide if we would actually climb anything at all, or if we would have to return another year.
After weeks of apprehension, food prep (dehydrating food takes a lot of time it turns out!), purchasing gear, route planning, and nervously checking the weather forecast, we set of.
Fortunately, no flat tires, no major hiccups… and we made it to Applebee in great time. The weather forecast for the next day looked absolutely perfect, and we decided to take advantage of it to go for a big day… crossing the glacier to climb the best 5.4 in the world, Pigeon Spire's West Ridge.
An early morning, and great weather got us to the top of the col just as the sunshine hit us near the top, blessing us with high stoke, and high expectations for a successful day.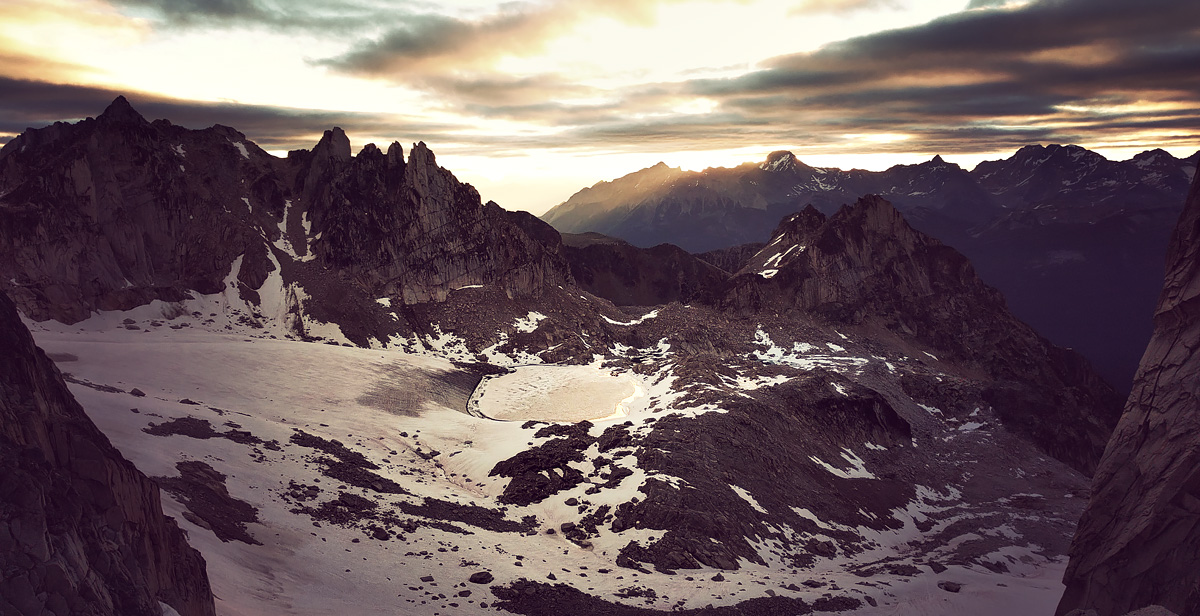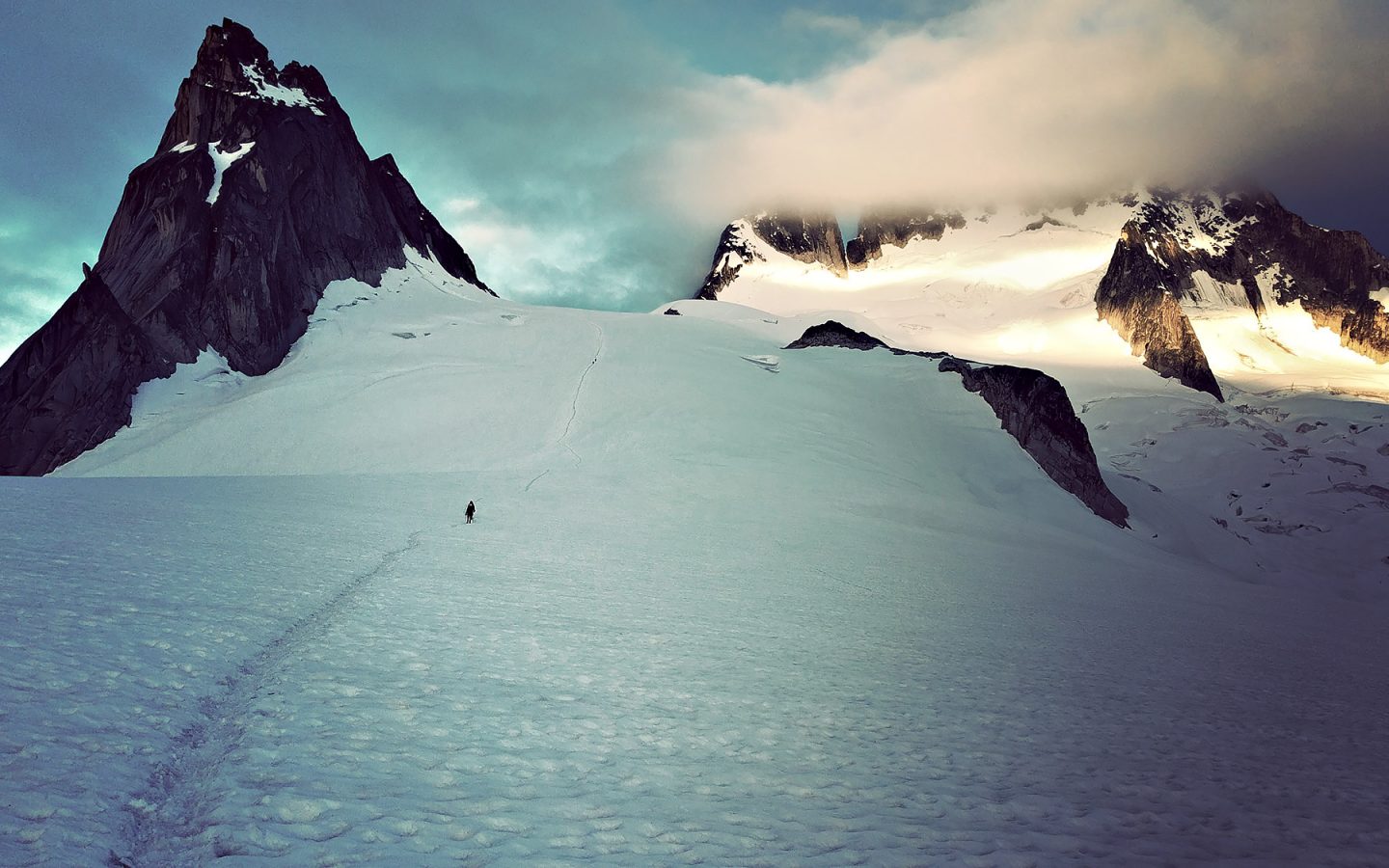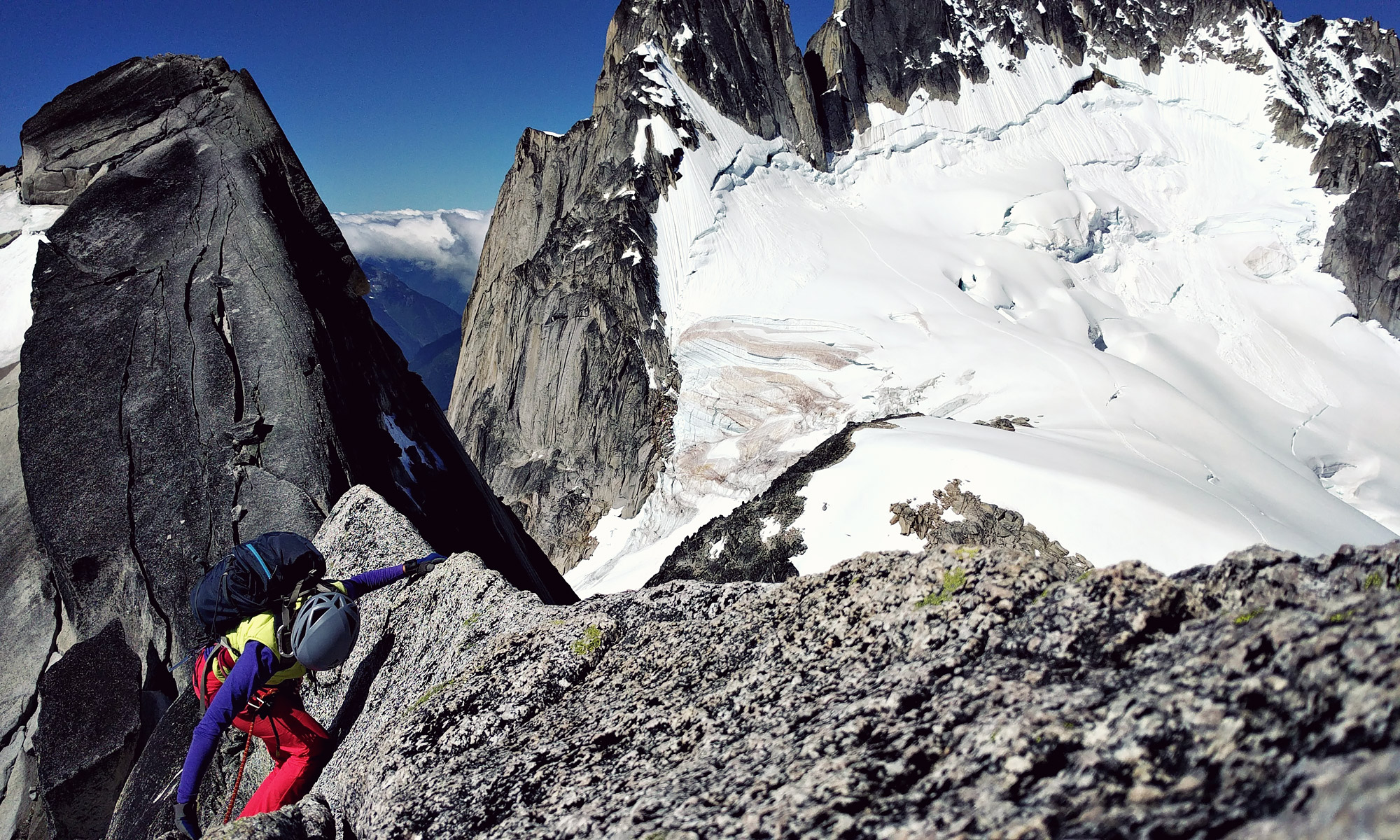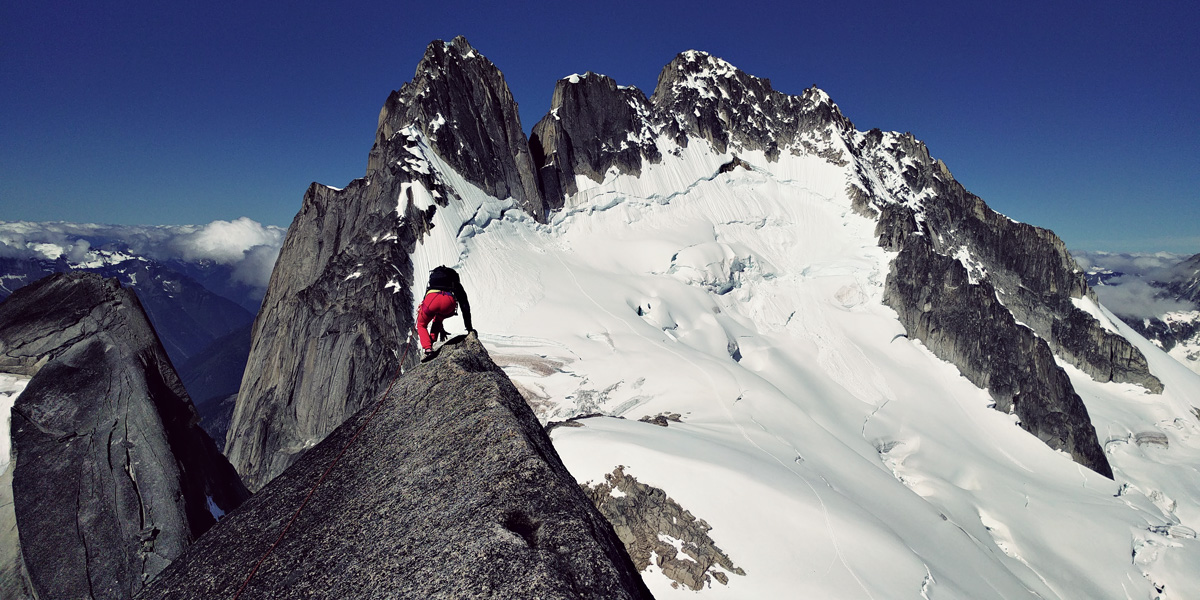 And a successful day was had. We topped out on Pigeon under perfectly blue skies, enjoyed a quick bite to eat, and made our way back down.
Day 2 had us completely knackered from hauling hundreds of pounds worth of food and gear up to Applebee, and Pigeon the day before, and we decided to take a weather day. In other words, the weather was perfect, so we enjoyed it 🙂
Day 3 was also reasonably good weather, and we made a push for the classic Lion's Way on Crescent Spire. The route was enjoyable, reasonably quick, and provided nice views of Bugaboo Spire and the Cobalt Lake side of the area.
A massive storm on Day 4 sent us to the tent to hideout while a number of parties dodged lighting on Bugaboo Spire (and other routes). Needless to say we were glad we hid out.
Day 5 offered another solid forecast, and we managed to tick off the classic "Ears Between" on Crescent Towers. This route offered some relatively easy climbing on the lower sections, and an absolutely classic 5.7 offwidth/chimney pitch leading up between the "Ears" of the Crescent Towers. We found this route to be an absolute blast, and the chimney pitch was highly exposed and very memorable! I would definitely recommend this route for anyone else looking for easier terrain near the campsite.
We originally were planning to try the East Ridge of Bugaboo, but crowds of people, dubious weather, and an overall feeling of tiredness led us to throw in the towel on day 6 and head to Rogers' Pass to climb Mt. Tupper
All in all, it was an incredibly memorable trip… one neither of us will forget. Bigger goals beckon, and we are stoked to get our fitness even high enough that we can attempt the Becky-Chouinard, and some of the other classics in the area.
We can't wait to head back in 2017!
---
Become a Patron!
---
Share this post
---
You may also like...