Jimmy Jr. Bowl Ski Touring
~ By Jonny
Published December 28, 2018
The icefields parkway never ceases to deliver great skiing, great views, even when expectations and motivations are low. Jimmy Jr. Bowl is no exception. After a bit of a lazy christmas break, Jolene and I were itching to get out for some days of ski touring. The problem was, well, we were feeling a little bit low motivation! A late sleep in left us with a few narrow options. The least of which was to have a coffee and not do too much else for the rest of the day.
Fortunately, we acted on a brief moment of impulse. Hopping in the car just before lunch to see what we could find up on the icefields parkway.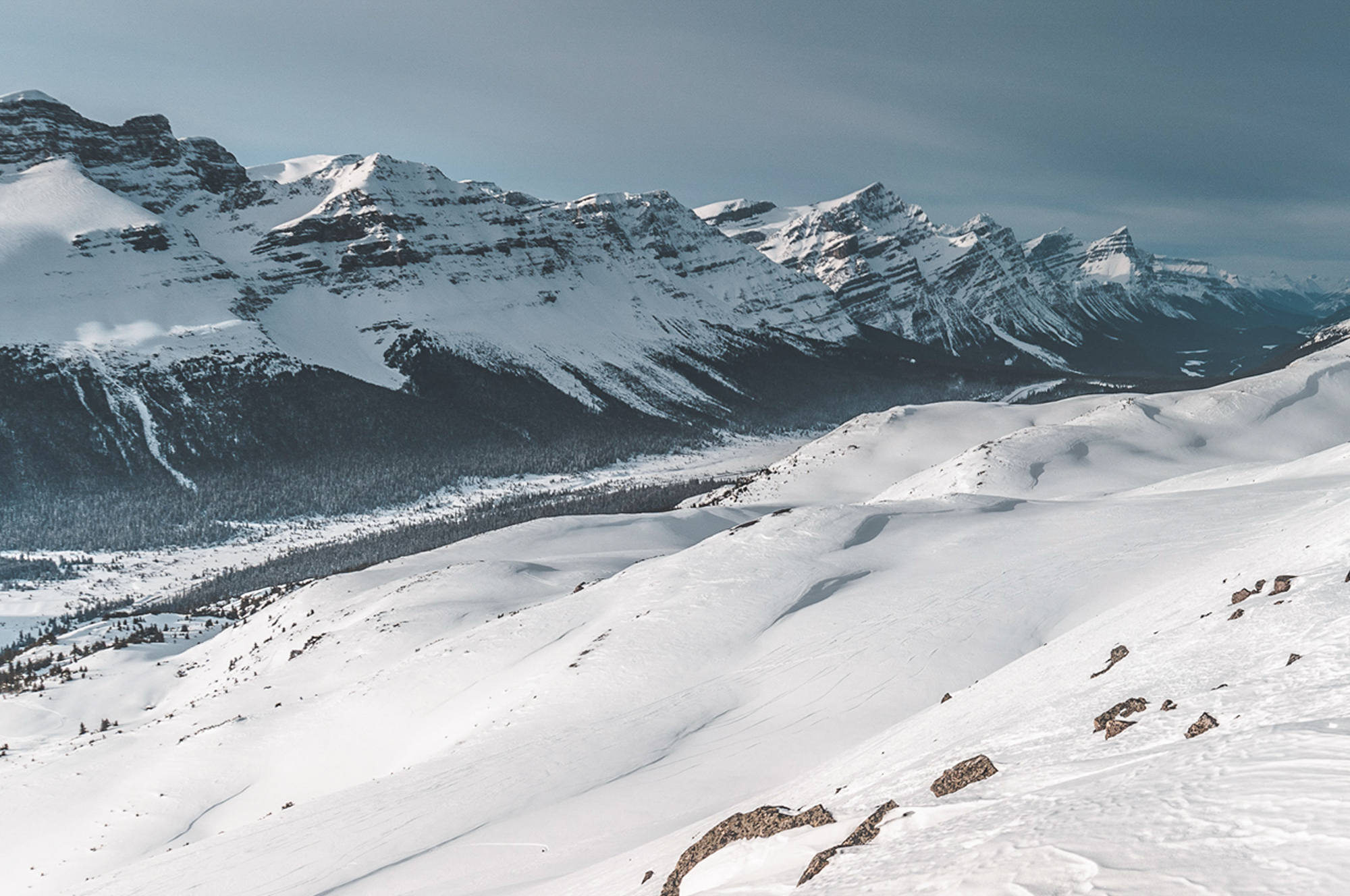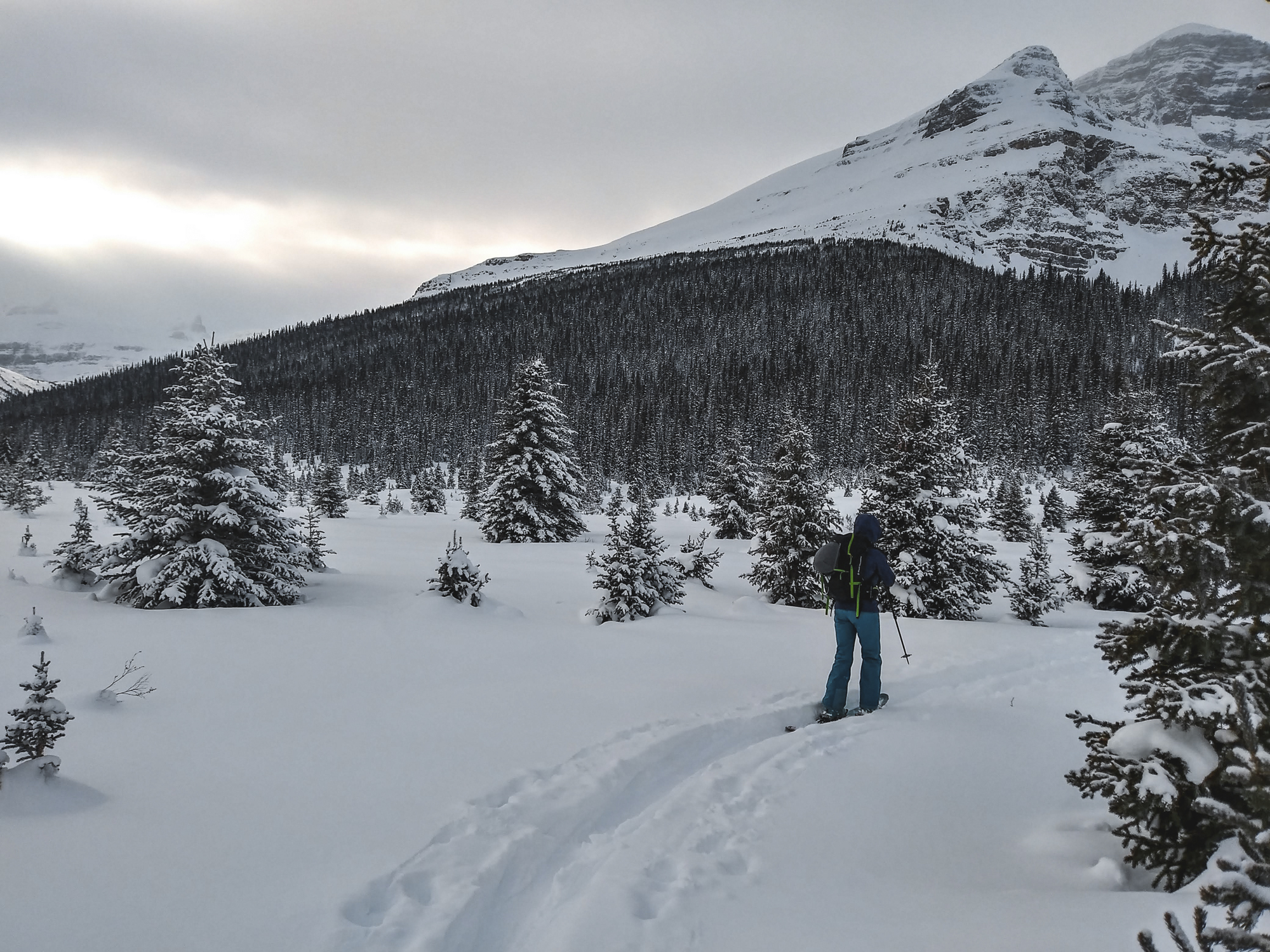 Access the Bowl
Jimmy. Jr bowl seemed like a short little gem at the north end of the parkway just south of Bow Summit. We hoped it might be the right ticket for a short day. Thanks to good road conditions, we arrived at the car park just north of Bow Lake in only 1.5 hours. This opened my eyes a little bit to just how accessible the parkway is!
For more detailed information on this tour, and other nearby options, be sure to pick up Marcus Baranow's Guidebook: "The Icefields Parkway: Lake Louise to Bow Summit"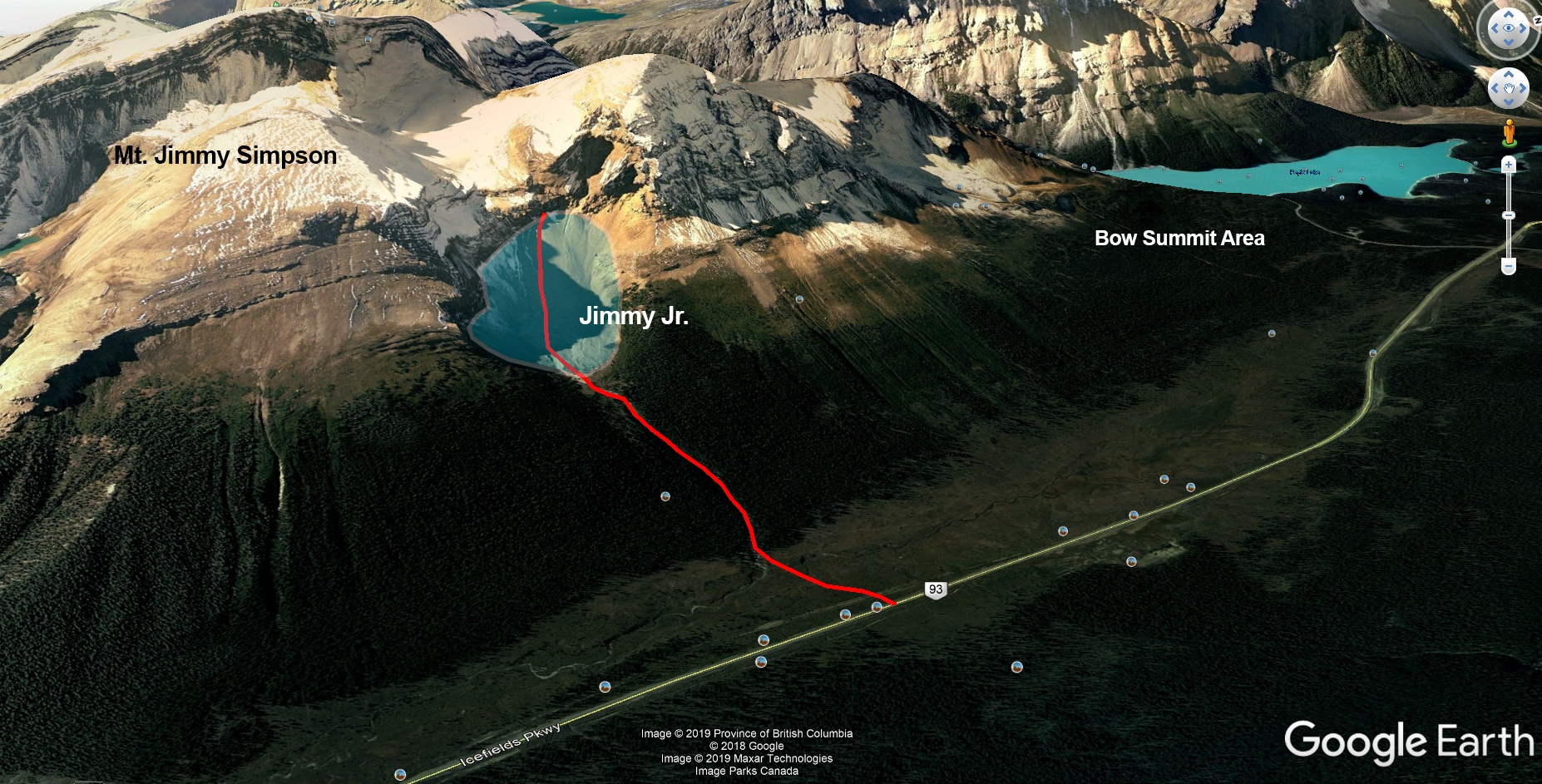 Jimmy Jr. Bowl Approach
A short easy to access skin up the small drainage opened up to an amazing, relatively mellow angled bowl. The bowl sits just below Mt. Jimmy Simpson and Jimmy Jr. to the left. It had a few tracks in it, but shockingly, consisted mostly of perfectly untouched powder. Almost mid-calf deep with a nice supportive base just below.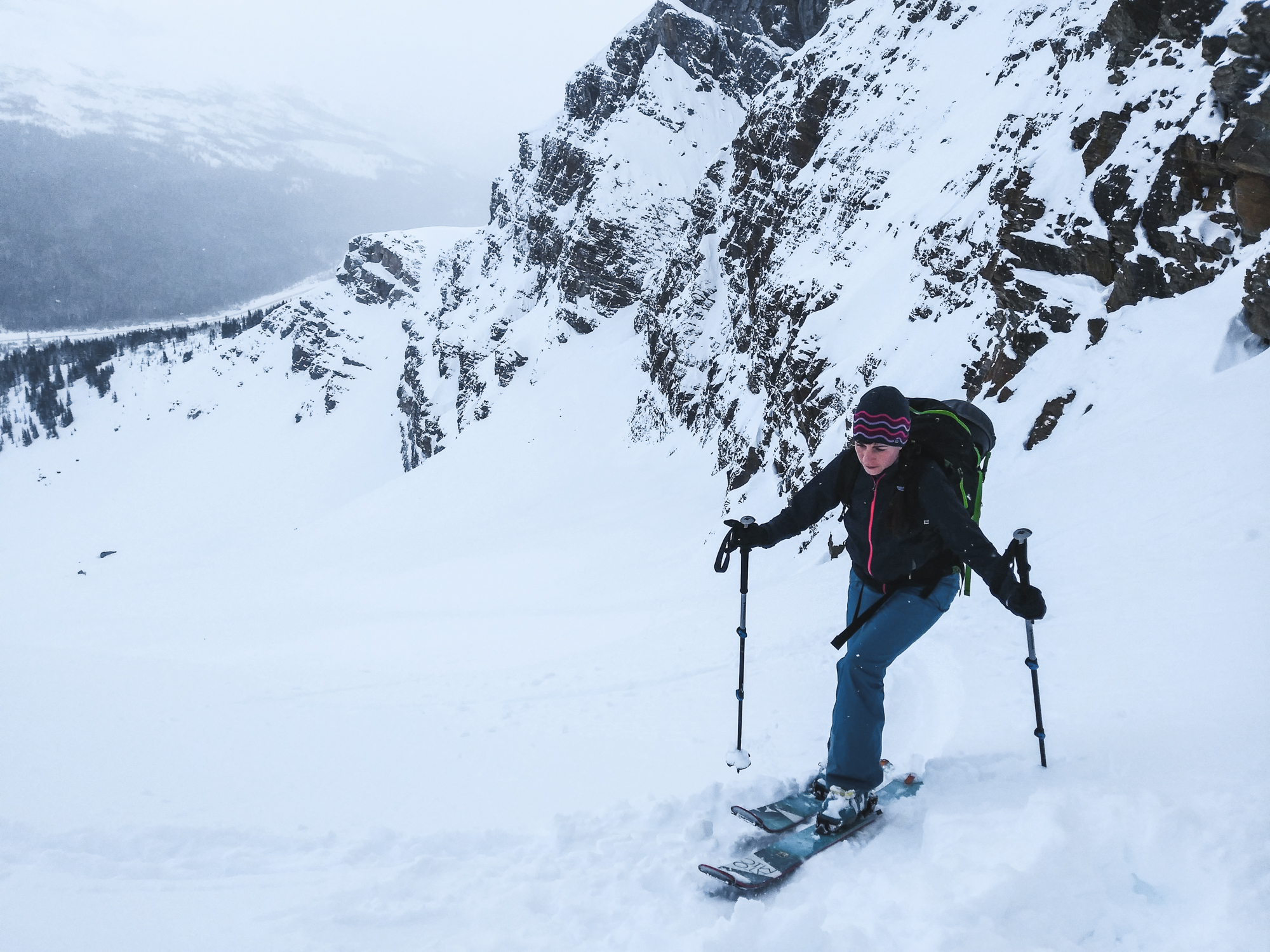 We skinned up to the top of the bowl in short order and were shocked to realize we'd arrived at the top of our run a mere 2 3/4 hours from leaving the house. Not too shabby!
The first couple turns were a little bit choppy. However, it quickly opened up with near-perfect powder and we could turn on the gas a bit. Amazing snow inspired us to put the skins on and get a quick second lap while the daylight lasted.
Back to the car with time to spare, despite being one of the shortest days of the year. Two good sized laps in perfect powder with a fun ski out down the drainage is about as good as it gets on December 28!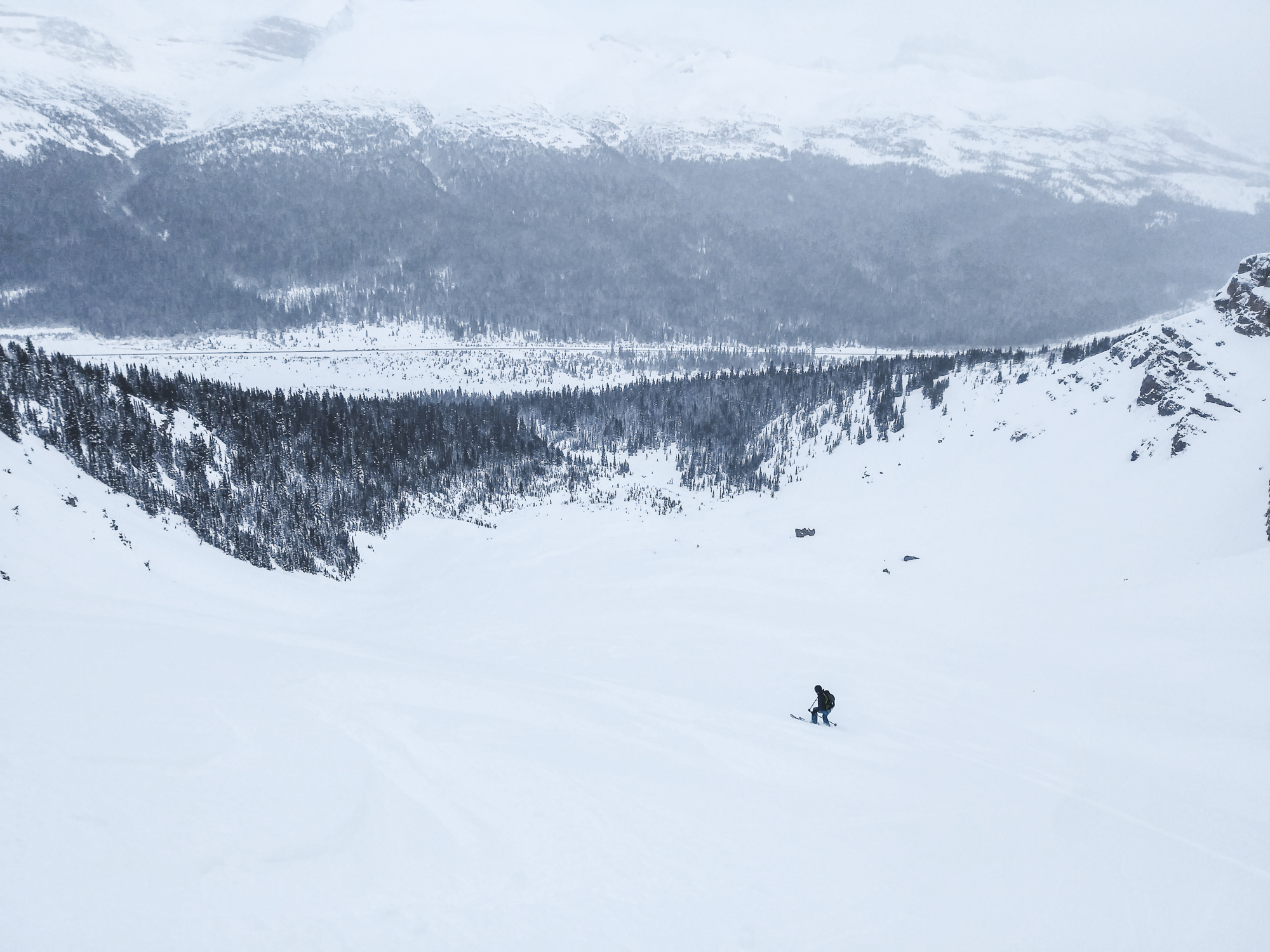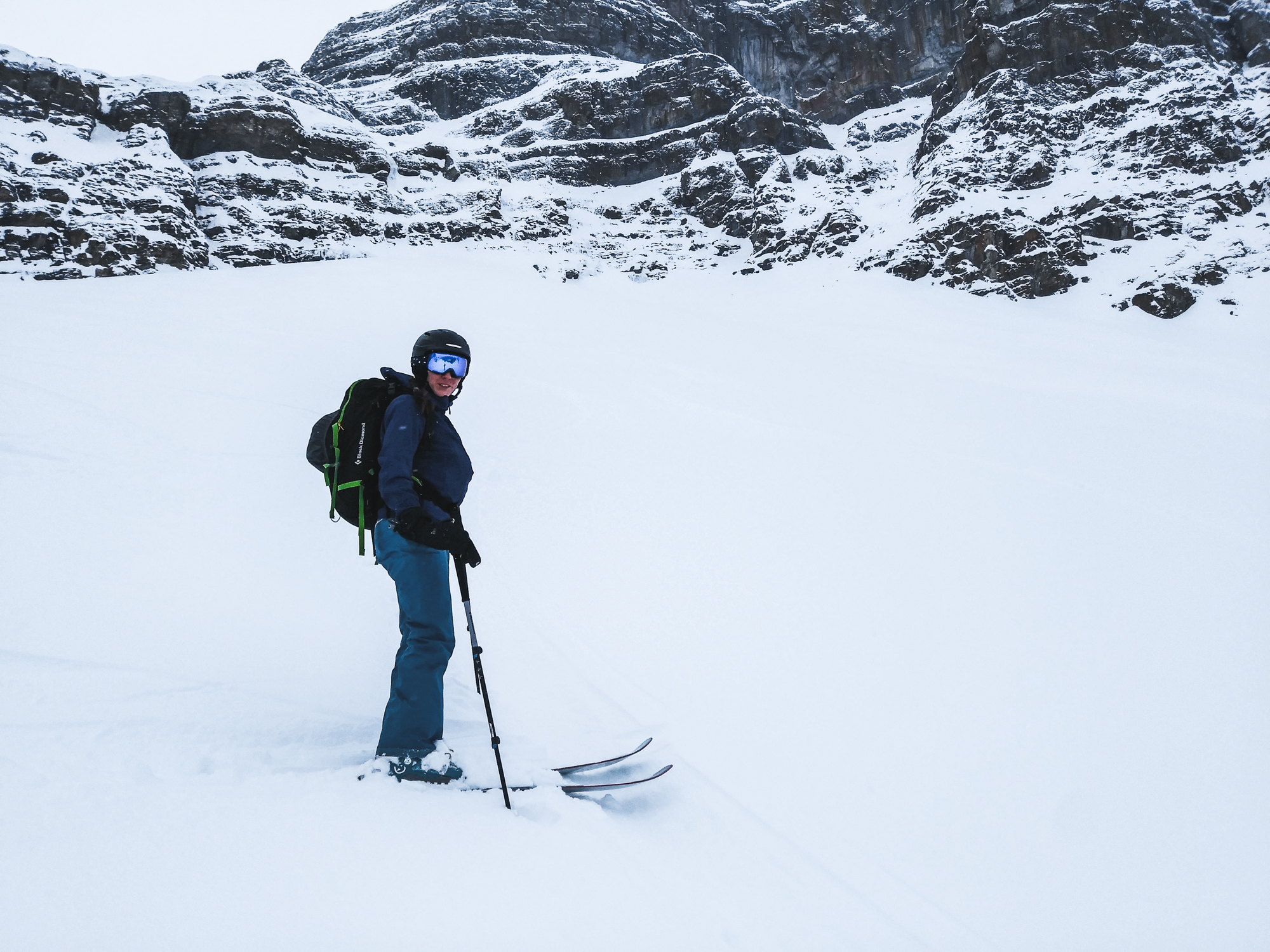 Jimmy Jr Bowl is most definitely a hidden gem. I would highly recommend it for anyone looking for a short day of skiing with an easy approach. Jimmy Jr. Bowl would also make a very nice place for beginners while avoiding the crowds of nearby Bow Summit.
Safety Discussion.
Important note/disclaimer: There is significant amount of overhead avalanche hazard from above on Mt. Jimmy Simpson. It is not uncommon to see debris on the south side (north aspect) of the bowl from slides from above. There is some hazard in the bowl itself as well, and conservative choices are recommended based on snowpack. As everything in the Rockies, this area can be a highly reactive and dangerous zone when conditions are unstable, and accidents have occurred in this area.
Always use your own experience & judgment when making decisions, and check https://avalanche.ca for the most up to date avalanche forecasting.
---
Become a Patron!
---
Share this post
---
You may also like...