Bow Summit Ski Touring – The Best First Backcountry Ski Tour?
~ By Jonny
Published January 22, 2021
If you have done any ski touring in the Canadian Rockies, you've probably heard of Bow Summit. The many dozens of cars parked here, and number of AST1 courses that take place here on any given weekend should hint that this is a very popular ski touring destination. But is it really the best first backcountry ski touring destination, or is it an overblown disappointment?
Bow Summit Overview
Elevation Gain (1 lap): ~300m
Round Trip: 2~4km (depending on choice of ski zone)
Lets start with the facts. Bow Summit is located on the Icefields Parkway approximately 120 kilometers north of Canmore. It is approximately a 1.5 hour drive from Canmore, or 2 1/4 hours from the West edge of Calgary. From Canmore, you take HWY 1 north to Lake Louise, and turn North onto the 93N (Icefields Parkway)
It's not a short drive, particularly if you are coming from Calgary. Roughly a 4.5 hour day trip just to get there and back. As far as skiing on the Icefields parkway goes, the driving is substantial compared to most of the other popular destinations. For comparison, similar zones in Kanananaskis are only ~30-40km and much shorter drives.
Bow Summit Approach & Access
If there was one word that sums up the popularity of Bow Summit, it would be "accessible". Without a doubt, for the amount of driving involved to get here is substantial. However, you are parking at roughly 2100m, just below treeline, and a number of skiable slopes are less than an 800m ski from the car.
The access is hard to beat at Bow Summit. A quick party can easily be at the top of the main slopes in under 30 minutes, ready to get some short laps in.
Something for Everyone
Bow Summit does not boast significant vertical relief (the average run barely scrapes 300m of vertical), but it does boast a variety of terrain. This variety of ski touring terrain is likely a contributor to its popularity – particularly for guiding companies offering AST 1 courses (not to mention the ample parking!)
Main Slopes
The easy main slopes extend from the parking lot to the very top of treeline, extending south towards the open paths on the climbers left. This is by far the most popular ski touring zone at Bow Summit, and it is common to find a few dozen people turning a fresh storm into a mogul run here. Open trees, and relatively open slopes makes for plenty of fun turns for short laps.
While there are no truly "safe" avalanche zones here, the majority of the main slopes are relatively low angle without too much overhead terrain to speak of. However, venture to the south beyond the bench, or up above treeline into the Upper Slopes, and you are most certainly into some significant, and very real Avalanche Terrain.
Bow Summit Roadside Chutes
Venturing further south leads to the more moderate Bow Summit Roadside Chutes. This series of open slopes and avalanche paths are an excellent way to escape the crowds and find some fresh tracks when the main slopes are starting to resemble Angel Chair on Christmas break.
However, with fresh tracks comes a significant increase in exposure to avalanche terrain. While the slope angle remains relatively mellow, the overhead hazard the open nature of the slopes lends itself to an increased risk. No matter what, it is up to you to make safe decisions, and only ski this zone when your group has determined the snow conditions are safe and favorable.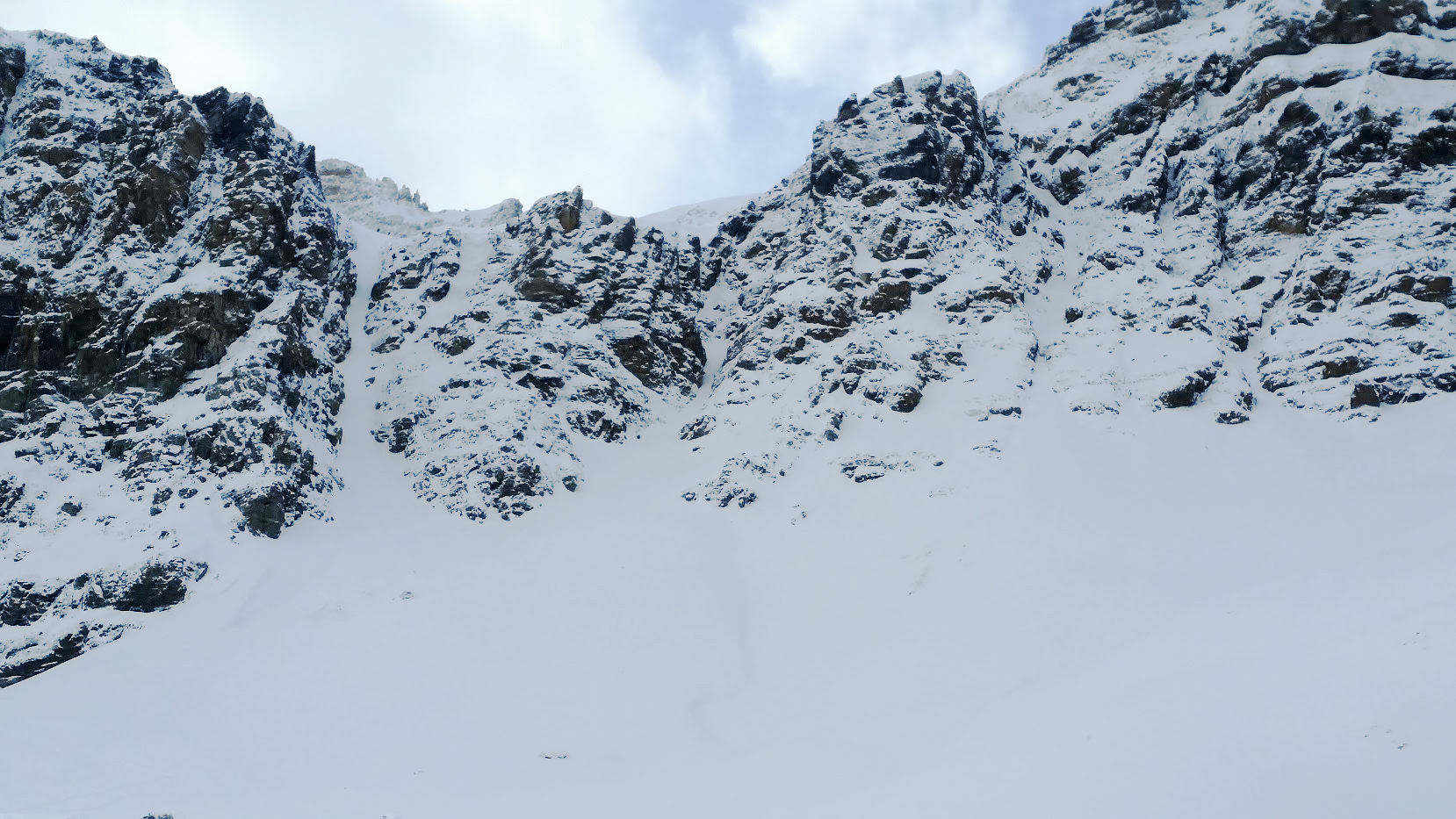 The Flower Couloir
If you have the experience, and you are looking for a bit more advanced terrain, the Flower Couloir is an absolutely classic line for the Icefields Parkway. Narrow, steep, with wide open skiing above. The Flower Couloir provides a major contrasting element to the dozens of beginners and AST 1 groups that flood this area every weekend.
The Flower Couloir "stem" is very narrow, and offers roughly ~200m of vertical. The upper slopes or "petals" provide an extra ~200m of open skiing above.
While not the largest couloir on the Parkway, it is certainly still a significant objective, and should only be attempted when conditions are favorable. Any steep or narrow skiing should only be undertaken by competent parties with the required ski ability and experience.
The Upper Slopes
The final area of Bow Summit are the Upper slopes, above treeline and easily visible from the parking lot.
Frankly, this is probably one of the single worst choices for a ski tour on the Icefields parkway. Windslab is common, the slope is exposed and avalanche prone, and there are typically so many people here that the risk of an accident is very high.
In fact, this is an area that has seen more than a few accidents and fatalities over the years.
Bow Summit has a reputation for being a 'beginner area', but that does NOT mean that every skiable slope is safe, or even something beginners should consider skiing.
The Upper Slopes are occassionally in favorable or safe conditions, and you might even find it unskied. But frankly, if this is the type of skiing you are looking for – do yourself (and everyone else) a favor. Skip Bow Summit, save yourself an hour of driving, and ski a little closer to home.
So is Bow Summit the best beginner Ski Area?
Bow Summit (in my opinion), is not the best beginner ski area. Other zones such as Hero Bowl in Kananaskis, Jimmy Jr Bowl, Mosquito Trees, and the Engadine Burn offer significantly less overall hazard, better sking, fewer people and (mostly) better snow.
But… while there might be better skiing spots in the Rockies, it's hard to argue that Bow Summit is, at least, a "good" beginner ski touring spot.
The drive is a bit long. But the lack of bushwacking, variety of easy terrain, and the incredibly short ski approach makes this a compelling choice to introduce a new backcountry skier to the sport. In addition, starting at 2,100 meters elevation means you don't have to climb far to find good snow. Bow Summit's high elevation and short approach also means it's a good early season objective too.
Disclaimer / Safety Discussion
Ski touring and backcountry skiing is an inherently dangerous activity. There is often no way to completely avoid the risks associated with ski touring, but you can improve your odds by bringing the correct gear, knowing how to use it, and choosing experienced and capable partners for your trips.
Visit our Guide to Ski Touring in the Canadian Rockies for a primer on what ski touring in the Canadian Rockies is all about. Check the Avalanche Forecast before you go. Most importantly, make sure you have avalanche training and make safe decisions.
---
Become a Patron!
---
Share this post
---
You may also like...