Hero's Knob / Sweet Sixteen
~ By Jonny
Published February 13, 2020
Hero's knob is a feature located in Kananaskis country offering a wide range of good quality skiing and open alpine terrain. Kananaskis has a variety of reputations ranging from "trash" to "incredible", depending on who you ask and where you go (and when!). While conditions certainly can warrant a negative reputation at times, there is some amazing skiing to be had on varied terrain across the region when the snow is good.
There are two options for doing what is known as the "Hero's Traverse" both ending with an excellent descent of Sweet Sixteen. The first option is the longer traverse that involves looping south around Purple knob through "Purple col" and then across to "Hero's col" and descending via Sweet Sixteen, a stellar 600m (2,000′) run from the col to the drainage below, north of Hero's knob. Both options can easily be done car-to-car with a short ski along the side of the road.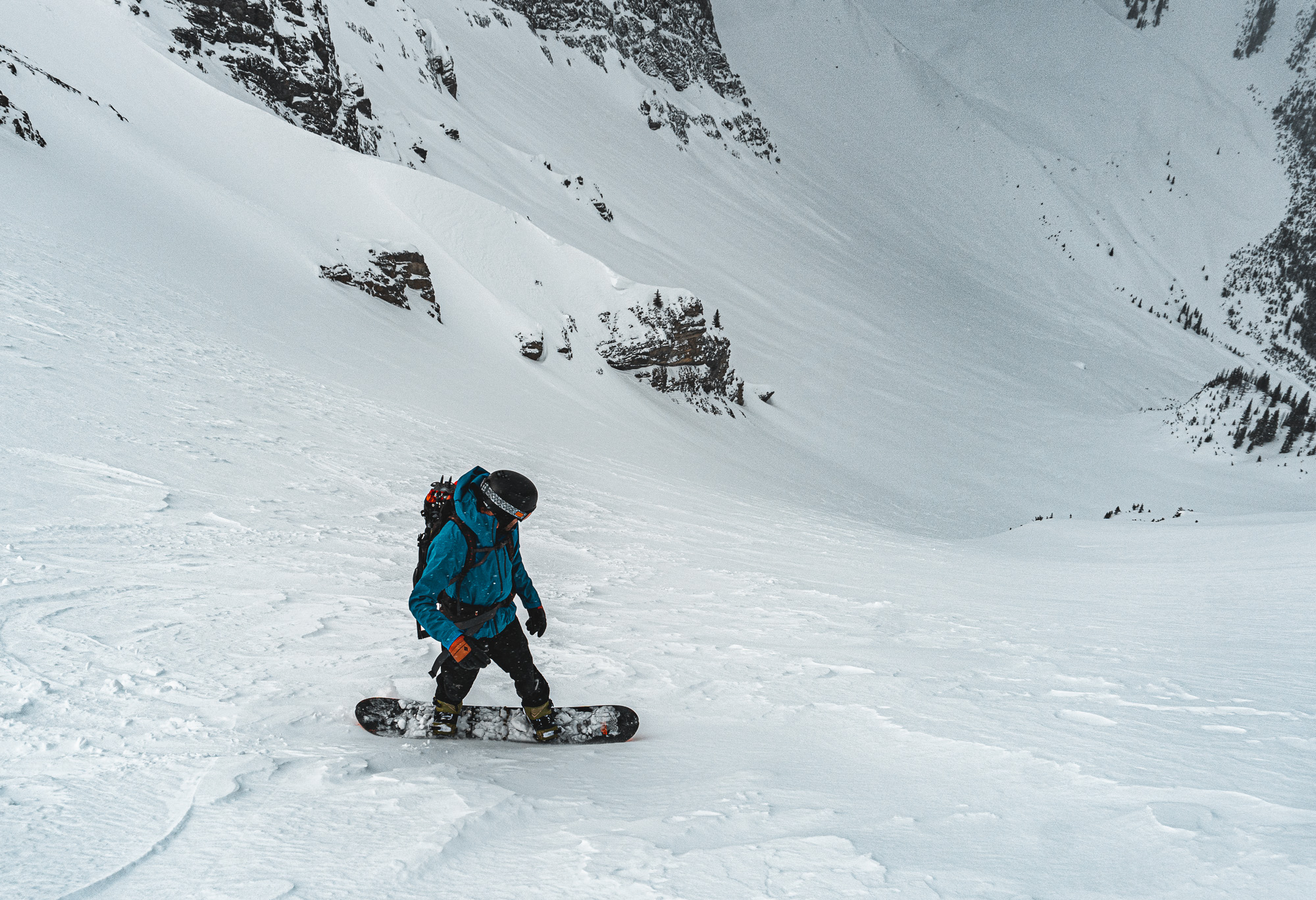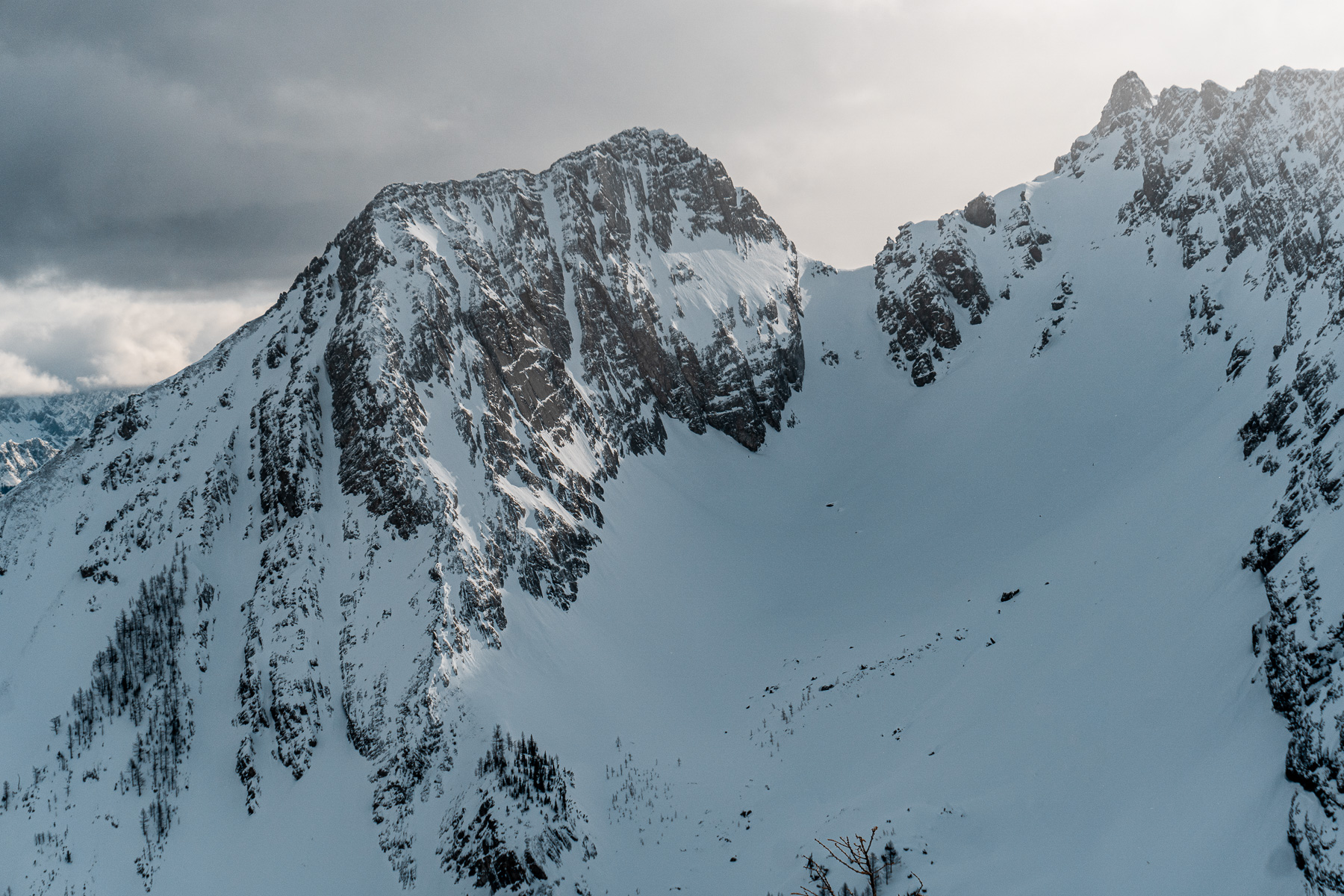 The second shorter option (approximately 8km and 700m total gain) involves accessing drainage and a very mellow skin track to the low point between Purple and Hero's knob, and then continuing North up to nearly the summit of Hero's knob to descend Sweet Sixteen.
Both options offer an excellent day out with wonderful terrain and skiing for surprisingly little effort. A strong party might bang off the entire Purple to Hero's traverse in under 4 hours, and the shorter Hero Traverse can be done easily in under 3 hours.
There are a number of areas that require caution along the track, particularly when traversing Purple Knob which is quite exposed to multiple runouts in spots, particularly on approach. The south col of Purple can be subject to significant wind loading, and caution is highly recommended.
Hero's traverse proper offers a slightly mellower terrain than Purple, however, Sweet Sixteen can certainly be subject to avalanche risk in the right conditions. Use caution at all times and watch for windloading both on approach and on the descent.
Hero's Knob Access
There are a number of ways to access the loop. The first is to park at Sawmill, then ski south along the road until you come across an obvious opening to gain access up the valley towards Purple Knob. You then complete either the short or long loop and return to the car.
The other option is to park directly at the access to Hero's/Purple knob drainage, and then exit to the highway and skin back to the car. Some parties may bring two cars, however, the skin along the road is not significant.
More information on this run can be found at Backcountry Beta and Backcountry Skiing Canada.
Safety Discussion
Both the Hero's traverse and Purple Knob / Traverse are exposed to serious avalanche terrain, including multiple runouts, loaded slopes, and other alpine features. Be extremely cautious when planning a trip to this area, and be sure to assess conditions as you travel. Be particularly wary of windloading on all aspects. Winds can be extreme in this region, and direction can vary in often unexpected ways. As always, be sure to visit the avalanche report before heading out and check out the forecast.