Mount Engadine Burn Ski Touring // A Hidden Kananaskis Gem
~ By Jonny
Published April 6, 2020
The Mt Engadine burn is a hidden gem of ski touring in Kananaskis country. When the snow in this area is good, this zone offers some of the best bang-for-buck skiing anywhere.
While the upper slopes are certainly avalanche terrain, the lower angle slopes lower down offer mellow, safe skiing during times of high avalanche danger.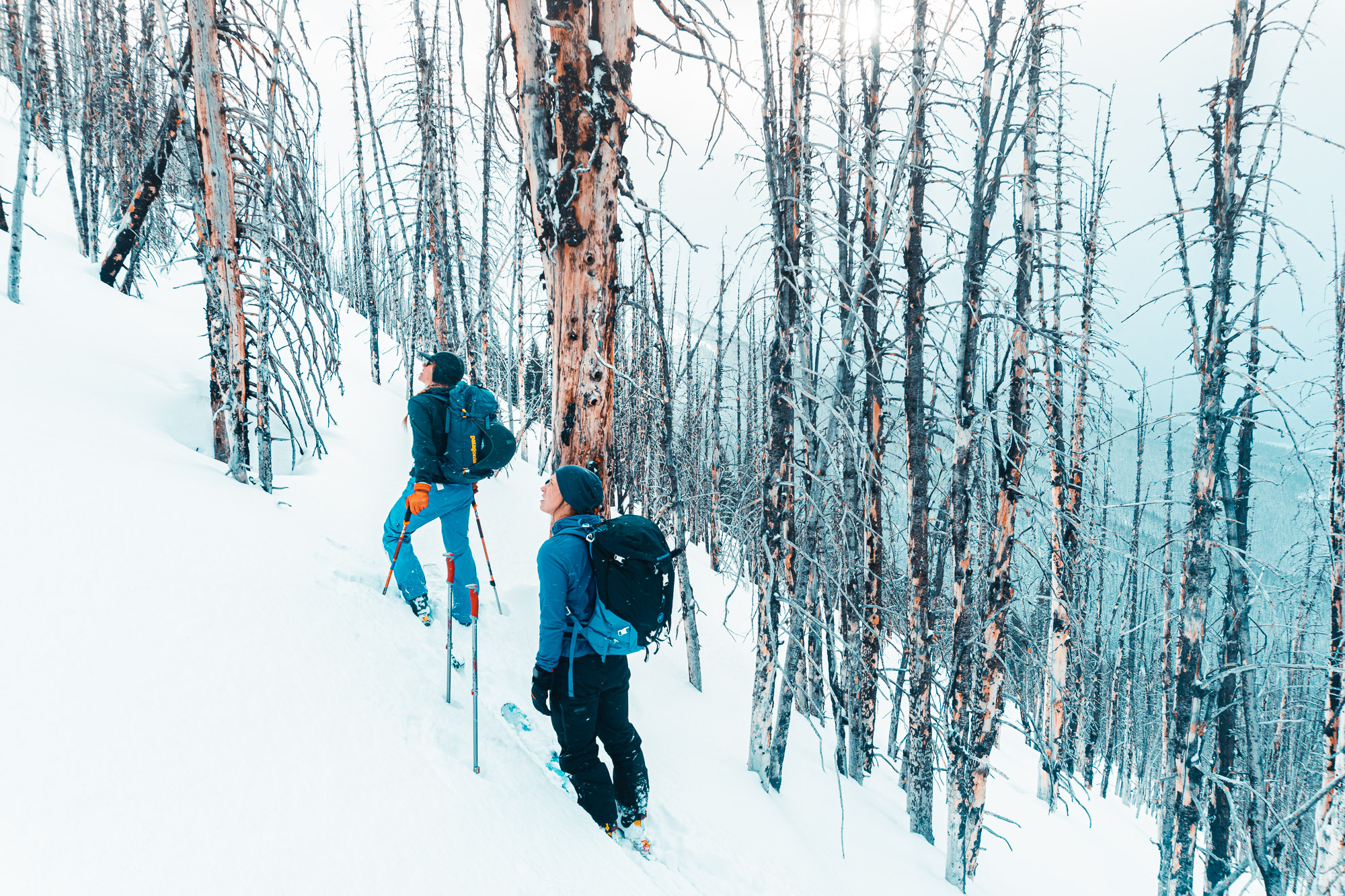 This area enjoys extremely easy access thanks to the burn zone extending directly from the road, all the way to treeline. Alternately, skiing out is an absolute blast, with open burnt trees and no flat spots all the way to the road. A pretty rare thing in the Canadian Rockies.
This area is also an excellent place to take beginners. The trees are wide, and objective danger is quite managable with good decision making. Most importantly, the amount of bushwacking is zero.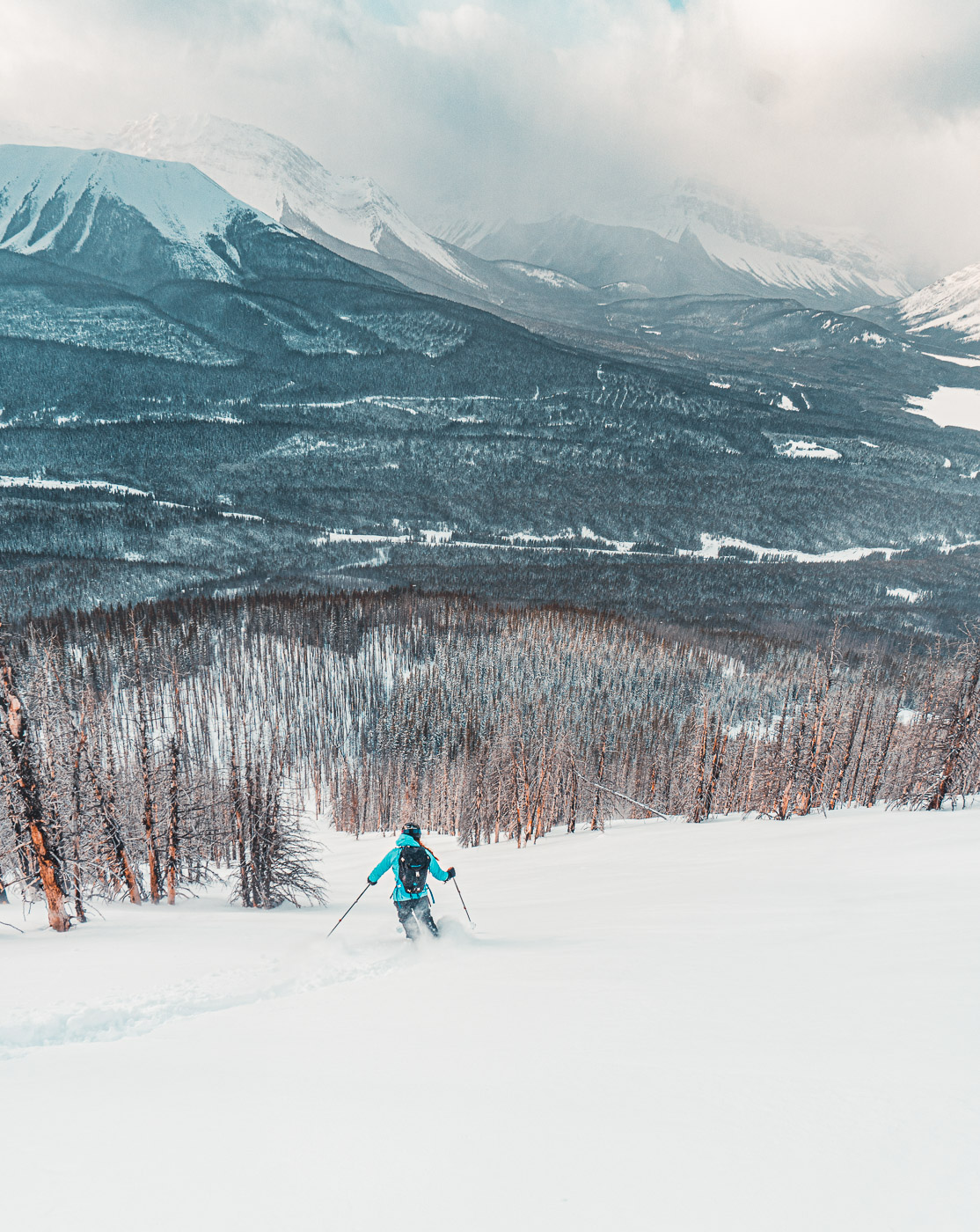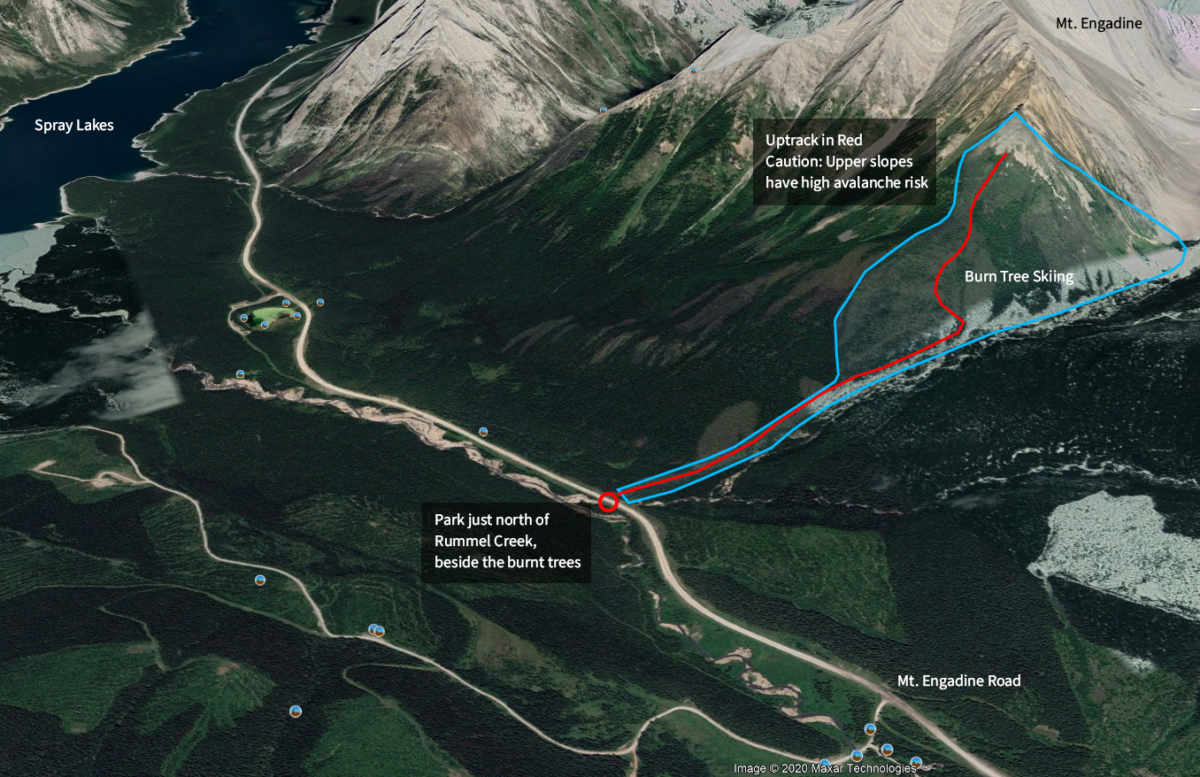 Accessing the Mt. Engadine Burn
This ski tour is approximately 6km round trip (one lap to treeline) and 600m of elevation gain. Difficulty is easy to top of the bench, and advanced to treeline or beyond.
To access Mt Engadine, take the Spray Lakes / Smith Dorrien road just over 30km from the Canmore Nordic Center. Park on the East side of the road (facing north) 1.3km north of Mt. Engadine Lodge access road. You will see a narrow segment of burnt trees leading to a larger area of burnt trees above.
The access for this area follows the Rummel Ridge Trail, a popular 6km loop in the summer.
Follow this 30-60m highway of burnt trees over rolling mellow terrain for approximately 1.3km until the trail begins to head back downwards again and slightly climbers right. Heading right takes you along the Rummel Ridge Trail.
Instead, break left into the burnt trees and follow the wide burn zone for another 1/2 kilometer to the top of a bench and flatter terrain. From here, safer laps can be had in the widely spaced trees below.
If avalanche conditions permit, another 300m of elevation through the steeper slopes above give access to some incredibly perfect avalanche paths which offer some absolutely perfect skiing.
Caution / Disclaimer
This post does not constitute avalanche safety, or a recommendation to ski this area. You are responsible for your own safety at all times. You are in avalanche terrain in this area, and you must take all precautions to ensure your safety.
As always, check the avalanche forecast before heading out, and investigate the snow conditions in the area you are skiing.
---
Become a Patron!
---
Share this post
---
You may also like...