25 Ski Touring Frequently Asked Questions (FAQ)
~ By Jonny
Published January 11, 2020
Ski touring (or Backcountry skiing) has exploded over the past decade. Some estimate put the number near 6,000,000 self-powered powder junkies out there in the US. But with this growth comes a lot of aspiring backcountry travellers trying to learn how to backcountry ski. While it's a relatively simple sport to access, it can seem inaccessible from the outside. The gear can be complicated, the risks are often misunderstood, and it can all be a bit confusing.
Well, have no fear. I've put together a list of 25 commonly asked backcountry skiing questions. I've included information on equipment, safety, access, risk, and even how to get started.
If you have any questions not answered here, feel free to reach out to me with my handle @alpinejonny on Instagram, and i'll be happy to answer your questions or add them to this page.
Do you need special boots for ski touring?
You do need specialized boots for ski touring typically. There are touring bindings which allow you to use alpine ski boots. However, there are numerous disadvantages that alpine boots have compared to touring boots. These disadvantages range from "discomfort" to disqualifying them for use in many situations.
First of all, we need to talk about bindings. There are two primary types of bindings designed for ski touring. Frame bindings (such as the Marker F10 Tour S) are a more traditional approach which are typically compatable with downhill ski boots. The second (and more popular form) are Tech Bindings (such as the Plum Guide 7) which do require specialized boots.
Tech Bindings
Tech bindings were first introduced by Dynafit in 1986. Sometimes called "Pin Bindings", this style of binding has increased in popularity over the years. It is currently far and above the most popular style of ski touring binding today and for good reason. Tech Bindings are lightweight, strong, highly functional, and keep the boot directly on the ski.
However, tech bindings do require special tech/pin-compatable boots which can be a fair bit more expensive than traditional frame bindings. Tech Bindings also can be tricky to step into and a bit finicky. For these reasons, they are not necessarily the best choice for someone just looking to get into the sport, or someone who is looking to only spend a small percentage of their time touring vs. at the hill.
Frame Bindings
A style of binding that most closely resembles traditional downhill ski bindings. The difference is that they have a "free heel" or uphill mode which allows you to unlock the heel to allow it to move freely for ascending with skins.
Frame bindings have the benefit of being compatable with traditional downhill ski boots, and are typically much simpler to operate. This simplicity makes them much more friendly for newer skiers. It is also great for those wishing to try backcountry skiing without the huge investment necessary for a brand new tech-binding set up.
The downside of frame bindings is that they are often much heavier than a tech setup, and raise the boot up somewhat above the ski making for a less stable ride. They are also somewhat more limited in range of motion, while tech bindings are significantly better for ascending technical terrain.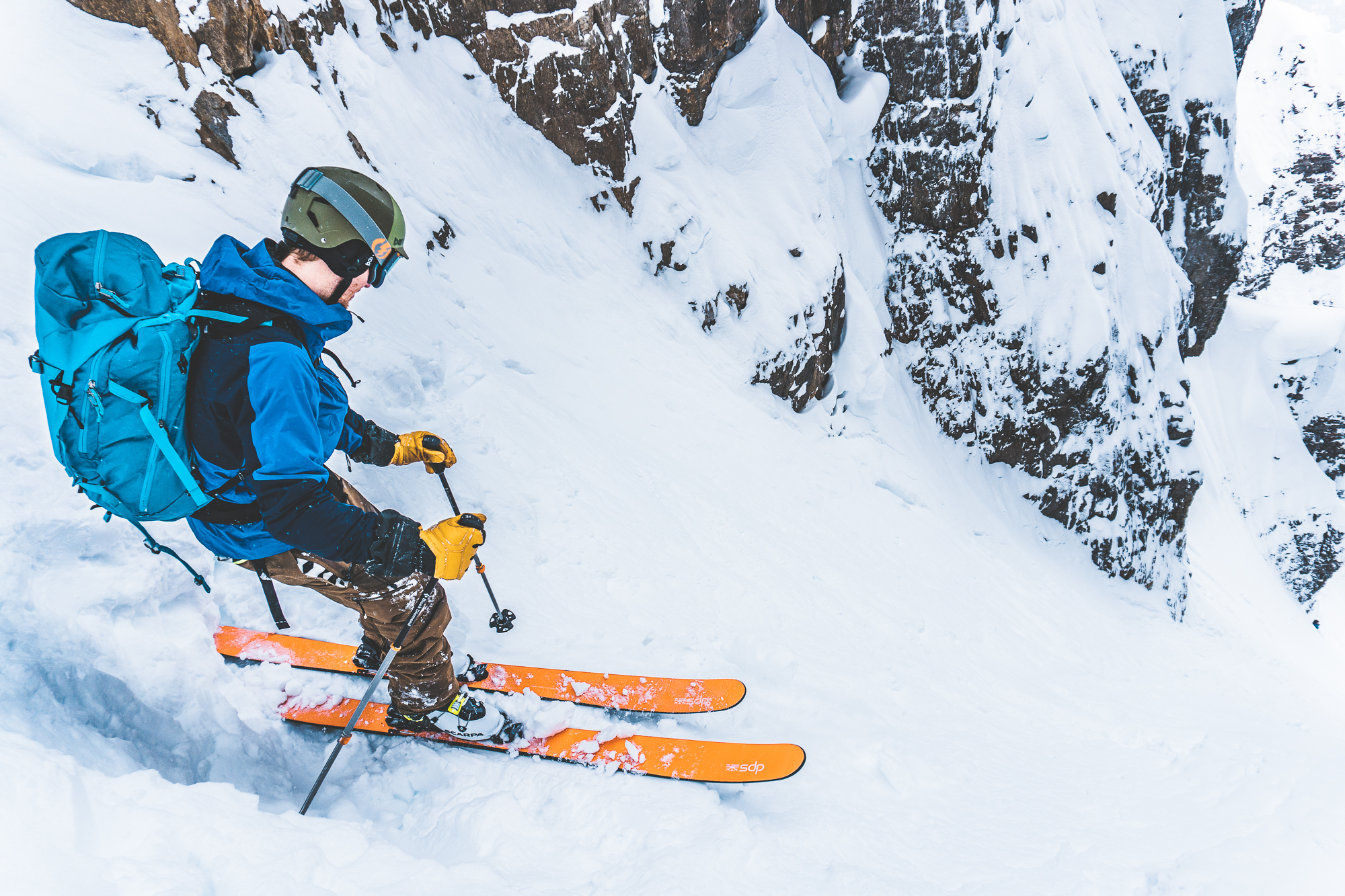 What is the best way to see the Canadian Rockies?
The absolute best way to see the Canadian Rockies is ski touring! Backcountry skiing and access is a great way to get up high quickly, and a fast way back down. In the winter, snow covers the often dense bush below treeline, which makes it much easier to move along on skis. Ski touring also offers you a spectacular freedom of movement that you cannot find in the summer. Getting around on skis without a trail is much simpler, and you can get up high in the alpine easily.
Of course, ski touring is a very advanced method of travel, and is nothing like hiking or downhill skiing. It is extremely dangerous to travel in the backcountry during the winter without avalanche rescue equipment, and the knowledge to avoid avalanche danger. Take your AST1 course, and find more experienced people to mentor you.
What length skis for alpine touring?
The correct length of skis for backcountry skiing or ski touring is highly depending on a number of factors.
The first (and most obvious factor) is your height. In general, you don't want skis that are too much shorter or longer than your actual height. For example, if you are 6′ tall, you probably want to stick within the range of 175 to 185 for your ski length.
Secondly, the amount of rocker (or rise) on your skis will determine the 'effective' length of your skis. More rocker means that your ski's will have less surface area touching the snow on flat ground. This may be desirable (depending on what you are going for) or you may need to compensate with slightly longer skis.
Third, they type of terrain you are planning to ski also determines how long you want your skis to be. A longer ski will be a bit more stable, but also slightly less maneuverable. A shorter ski might feel more "playful", but also might be much less stable feeling in steeper terrain.
Ultimately, a good guideline is to find a ski that is about as tall as you are as a starting point. From there, you can get shorter or longer skis depending on if you value stability, or maneuverability or playfulness.
What does Ski Touring mean?
Ski touring (or backcountry skiing) is simply the act of travelling through the alpine or backcountry on skis, both uphill and downhill. This is accomplished with specialized ski touring equipment that allows the skier to climb hills, then convert their skis for downhill skiing. How this works is listed below:
Boots and Bindings
Tech bindings (or pin bindings) are by far the most popular type of ski touring binding/boot combintation today. These bindings have two small pins in the front which "snap" into little specialized divots in ski touring boots, allowing them to pivot freely in a vertical direction.
Skins
Climbing skins are specialized tools that attach to the bottom of your skis allowing you to ascend the snow. They are covered on one side with a single-directional "hair" called mohair which allows movement in only a single direction. The other side is covered in a special glue which makes them super sticky, but removable for your ski. They also have hooks on each end which keep them from sliding forwards and backwards on the ski while you climb.
Ski touring climbing skins are incredibly effective, allowing skiers to ascend up to 30-40 degree slopes with easy, and make travelling in the backcountry incredibly easy.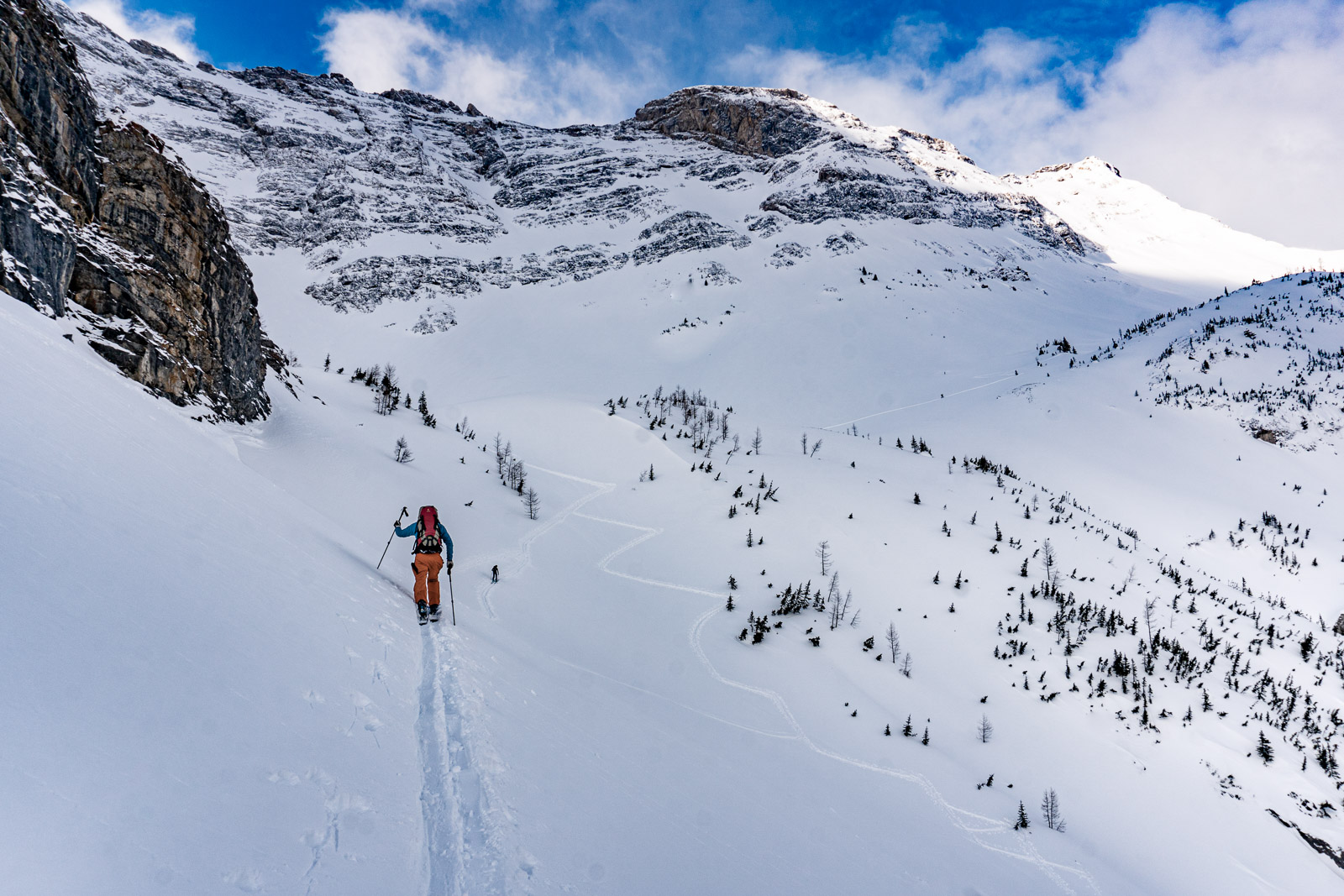 What's the difference between Alpine and touring ski boots?
Alpine and ski touring boots differ in a number of ways. The most obvious way is that dedicated tech ski boots have specialized binding mounts which make them compatable with tech (or pin) bindings. Frame touring bindings are also compatible with alpine ski boots. However, this type of setup is much heavier and much less versatile than a tech binding setup for really getting into it.
The second most common difference is that ski touring boots have an extremely flexible range of motion in "walk mode". This extra mobility makes them much easier to climb in, and helps to prevent blisters and pain on those ultra long days.
Thirdly, ski touring boots tend to be much lighter, and simultaneously quite stiff in ski mode. The additional technology involved and materials in making ski touring boots so light weight and strong also makes them quite expensive. In general, a quality pair of ski touring boots is roughly double the price of an average pair of downhill or alpine ski boots.

What should I wear for ski touring?
Choosing the right clothing for ski touring is a difficult and expensive endevour for most. The simple answer is that having a diverse set of layers is critical for success on a ski touring day. You may start in the dark with -20C temperatures and wind in the morning, and later in the day be boiling in 5C in the sunshine, toiling up a steep slope. This huge range of conditions requires a suitable and flexible layering system to accomodate.
Since there is no right answer, i'll share what works best for me, and has typically been my go-to layering set for over a decade of backcountry skiing.
Gloves
Choice of ski touring gloves will make or break your day. My personal strategy is to have a lighter (but still wind proof and insulated) pair of gloves for ascending, with a heavy set of winter/guide gloves in my backpack for the top. As I climb, my hands will often sweat as my body temperature rises. As soon as I stop to switch over, swapping gloves to a heavier set will keep my hands dry and warm for the swap and descent.
Pants
My bottom layer is pretty simple. I wear a pair of medium long-johns and a relatively lightweight pair of wind/water resistant softshell pants. As I typically don't ski tour under -20C, I find this setup is more than sufficient for almost all conditions. If I need a little extra insulation, I can throw a light pair of fleece between, but this is rare as I would then sweat too much.
Headwear
For headwear, I always have my ski helmet in my bag for the descent. For the ascent or switchover, I have a warm headband, and a light toque. The headband is great for those hot ascents, and the toque for colder conditions or wind.
Torso
The torso is where it gets more complicated. What works great for me is a simple 4 layer system. 95% of my climbing is done in my first two layers, and the insulated layers and outer shell are put on for swap overs and descent.
Base layer
I wear a Patagonia R1 checkered base layer. This layer is warm enough for ascending when there's no wind above 0C, and highly breathable when the sweat starts.
Wind Shell
Next I wear a Patagonia Houdini probably 99% of the time. This amazing layer weights virtually nothing, blocks wind, and is extremely breathable. I would never leave home without this.
Insulation
For insulation I wear an ArcTeryx Nuclei FL jacket. This layer is very warm, but not so warm that it is unusable for activity. I find it more than sufficient for swap overs, and for descent I typically don't get to warm where I need to remove it.
Outer Shell
For 95% of days I wear a Patagonia soft shell jacket as an outer layer for descents, and for extreme weather I will bring along my Marmot Alpinist Gore-Tex Proshell. However, this jacket is a bit heavy and totally unecessary for all but the most extreme wet conditions.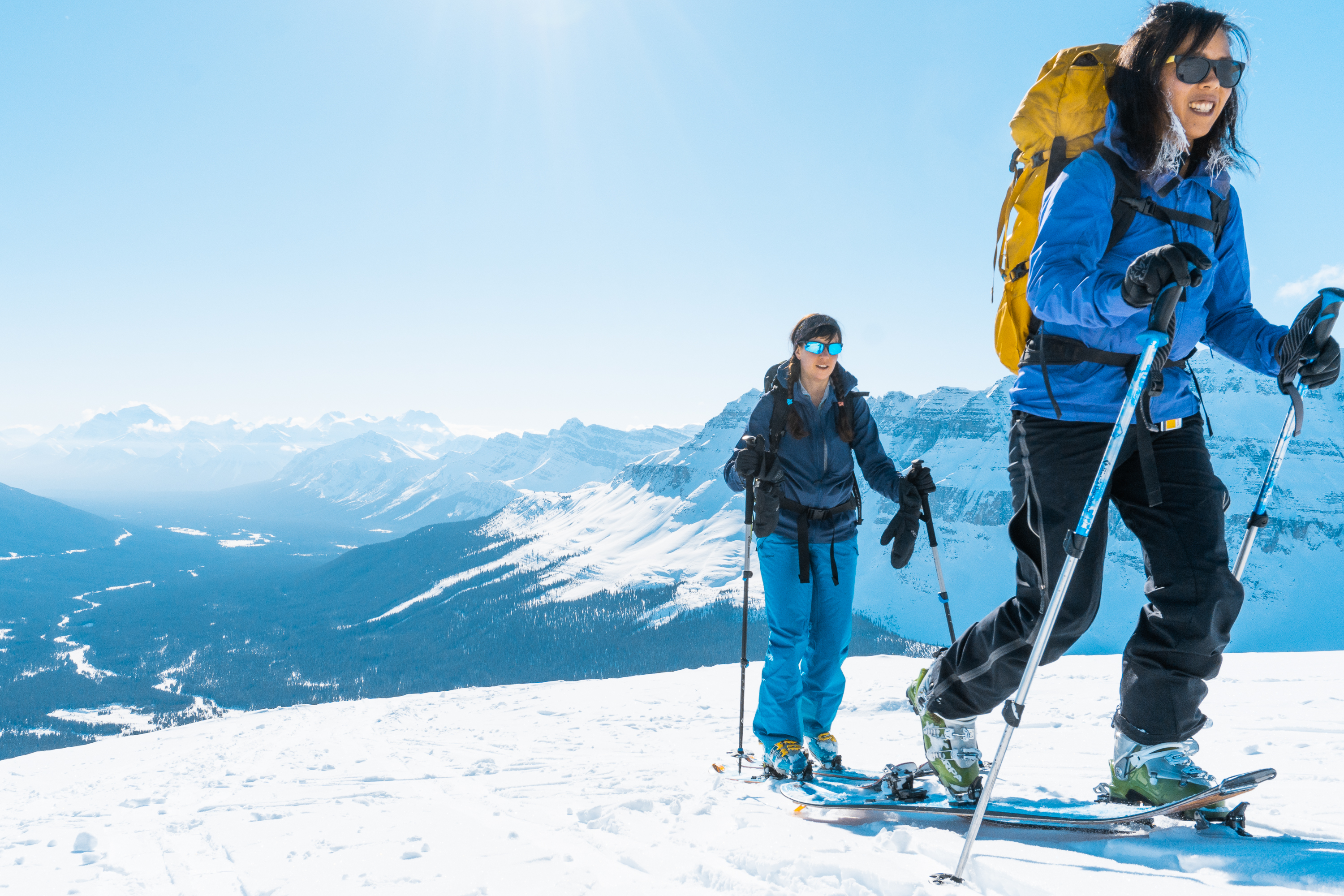 What length should touring skis be?
The approximate length of your skis should roughly match your actual height. For example, a 6′ tall person should start at around 180, and then look for other factors to choose length such as stability or maneuverability. Slightly shorter skis are more maneuverable, but longer skis offer better stability in steep terrain and at high speed.
Can you use touring skis for downhill?
Absolutely you can use touring skis and bindings for downhill resort skiing. In the past, touring equipment was a bit more fragile and was not recommend for the resort. However, modern skis, touring / tech bindings, and modern ski touring boots are extremely durable and more than capable of high performance skiing inbounds.
What is alpine touring skiing?
Alpine touring skiing is simply backcountry skiing, or using specialized ski equipment that allows for travel on snow both uphill and downhill.
What is the difference between touring and classic cross country skiing?
The difference between classic cross country skiing and ski touring is the equipment and type of terrain that can be travelled. For starters, classic cross country skiing gear is very lightweight. The skis are very narrow, and not intended for technical downhill skiing. XC Gear also does not require skins to ascend, as they either have specialized wax or "scales" which facilitate climbing on moderate hills.
Ski Touring
Ski touring requires the use of specialized equipment with convertable bindings which convert from uphill (free heel), to downhill (locked heel) skiing modes. Further, ski touring requires the use of skins, which are removable strips coated in one-directional hair and glue for ascending.
Ski touring allows for very technical ascension, and very technical downhill skiing in the same piece of equipment. The trade off is that they are slower on flat ground, and much heavier and more complicated than xc gear.
How do you get into ski touring?
Ski touring is much easier to get into than most people think. However, there are a few critical barriers that you need to consider before jumping in.
Cost
Ski touring is flat out expensive to get into. The gear overall is much more costly than downhill skiing, and there is much more specialized clothing required for success. In addition, you really should NOT venture into the backcountry without your AST 1 avalanche certification, which also costs money.
However, once you aquire the gear and training, the cost is only the gas to get to the location. No lift fees required for the rest of your skiing career!
Rent first!
To avoid buyers remorse, I highly recommend renting ski touring gear for your first outing (or three!) and go with some experienced backcountry skiers to SAFE and SIMPLE locations to decide if you even enjoy it before you drop $3,000 on a shiny new ski touring setup.
Safety
While ski touring is in many ways safer than a lot of people think, your margin for safety revolves almost entirely on your own experience and decision making. Beginners often either overestimate the dangers, or underestimate them. It is common for new backcountry skiers to either assume they are invincible, or that they are of risk of dying in an avalanche the moment they step out of the car.
What is important is taking the appropriate avalanche training (AST 1 is mandatory!), finding experienced people to start with (who take the dangers seriously!), and learning slowly.
Once you start going on short, easy ski touring trips, you will quickly gain knowledge and experience. Over the years, you will be able to slowly expand your range into bigger terrain as you learn.
Groups & Partners
Clubs like the Alpine club of Canada and the American Alpine Club offer lots of "learn to backcountry ski" group trips which pair inexperienced skiers with more experienced mentors in easy terrain. This isn't the same as hiring a guide, however it can be a great way to wet your feet and meet some people to get out with.
What is free touring?
Free touring is really just another term for backcountry ski touring. Free touring is not really a specific form of ski touring, but likely more of a media term that has been adopted and reused over the years.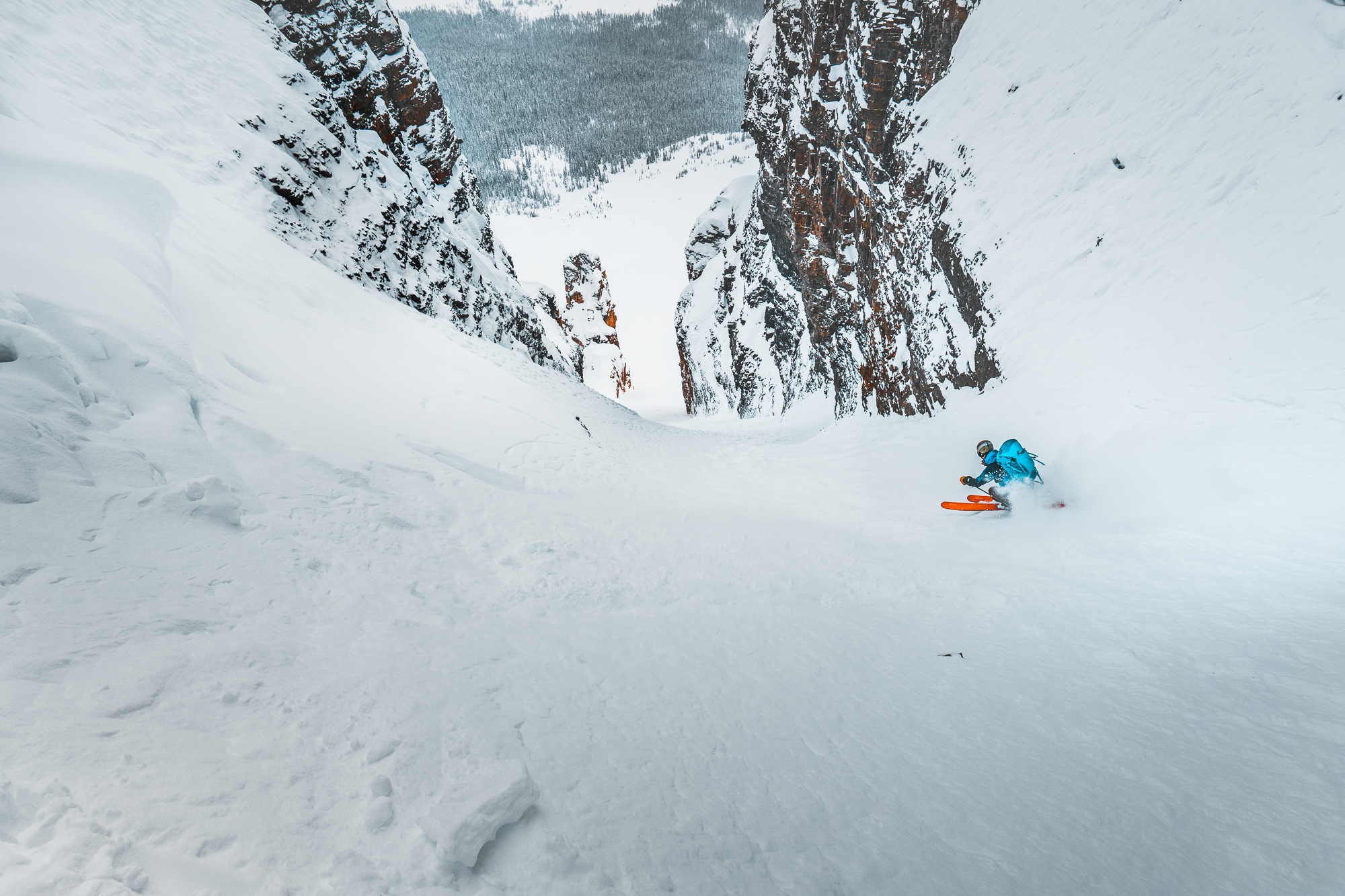 Can you ski tour in alpine boots?
You can definitely ski tour in alpine boots with the correct frame bindings. However, ski touring in alpine resort boots is far from ideal. Frame-style ski touring bindings will allow a "free heel" mode to allow uphill travel with skins and alpine boots. However, alpine/resort boots themselves will likely not have sufficent flex in walking mode to be comfortable on the ascent. This means that you will likely get blisters, and climbing will be challenging. Further, alpine boots are often very heavy. A heavy set of boots or skis will make for a very challenging and tiring ascent.
So while you can ski tour in alpine boots, it is not recommended long term. If you really love ski touring, even used equipment can be found each year for low cost of entry.
What are three types of skiing?
The three types of skiing include Cross Country Skiing, Downhill Skiing, and Ski Touring. Cross country skiing involves extremely lightweight equipment intended for climbing gentle hills, and gentle descents. Downhill skiing involves riding the lifts at the ski hill and descending established runs. Ski touring involves specialized equipment for climbing on snow with skins and convertable bindings. Ski touring bindings can be quickly converted from climbing mode, to ski mode to allow for both ascending and descending.
What do you wear under ski pants and jacket?
I personally wear a medium base layer under both my ski pants and jacket. For downhill skiing, I will wear a medium weight puffy coat, and a pair of insulated fleece pants as well. For ski touring, I will only wear base layers for ascending, and put on an insulated coat and outer shell for descending.
How many layers should you wear for skiing?
How many layers you wear for skiing depends completely on they types of layers you wear, the weather, and the type of skiing. For downhill skiing, I will wear a base layer, and a mid-insulated layer under my outer shell layers.
For ski touring, I will wear base layers with a non-insulated snowpant shell, and a thing windbreaker for ascending. When descending, I will wear an additional insulated layer and my outer softshell for extra warmth.
What you wear will depend entirely on your budget, and the type of weather you are anticipating you will experience.
What do you wear under snow pants when skiing?
I personally only wear a medium insulated base layer for ski touring under my non-insulated snowpants. For skiing at the resort, I will also wear a medium insulated pair of pants for extra warmth on the lift.
Does ski weight matter?
Ski weight is very important for both inbounds, and out of bounds backcountry skiing. For ski touring and backcountry skiing, weight is extremely important for the ascents. Heavier equipment means much more energy expended to climb.
For downhill and resort skiing, lighter equipment isn't nearly as important, but it still can make a difference for performance. A lighter pair of skis and boots will feel more nimble and require less energy for jump turns. Overall, lighter skis will be easier to transition between turns.
On the flip side, light skis sometimes won't plow through the crud as easily as a heavier pair. They also tend to be a bit flimsier. That is, unless you have an expensive pair of carbon skis which will remain incredibly stiff despite being light.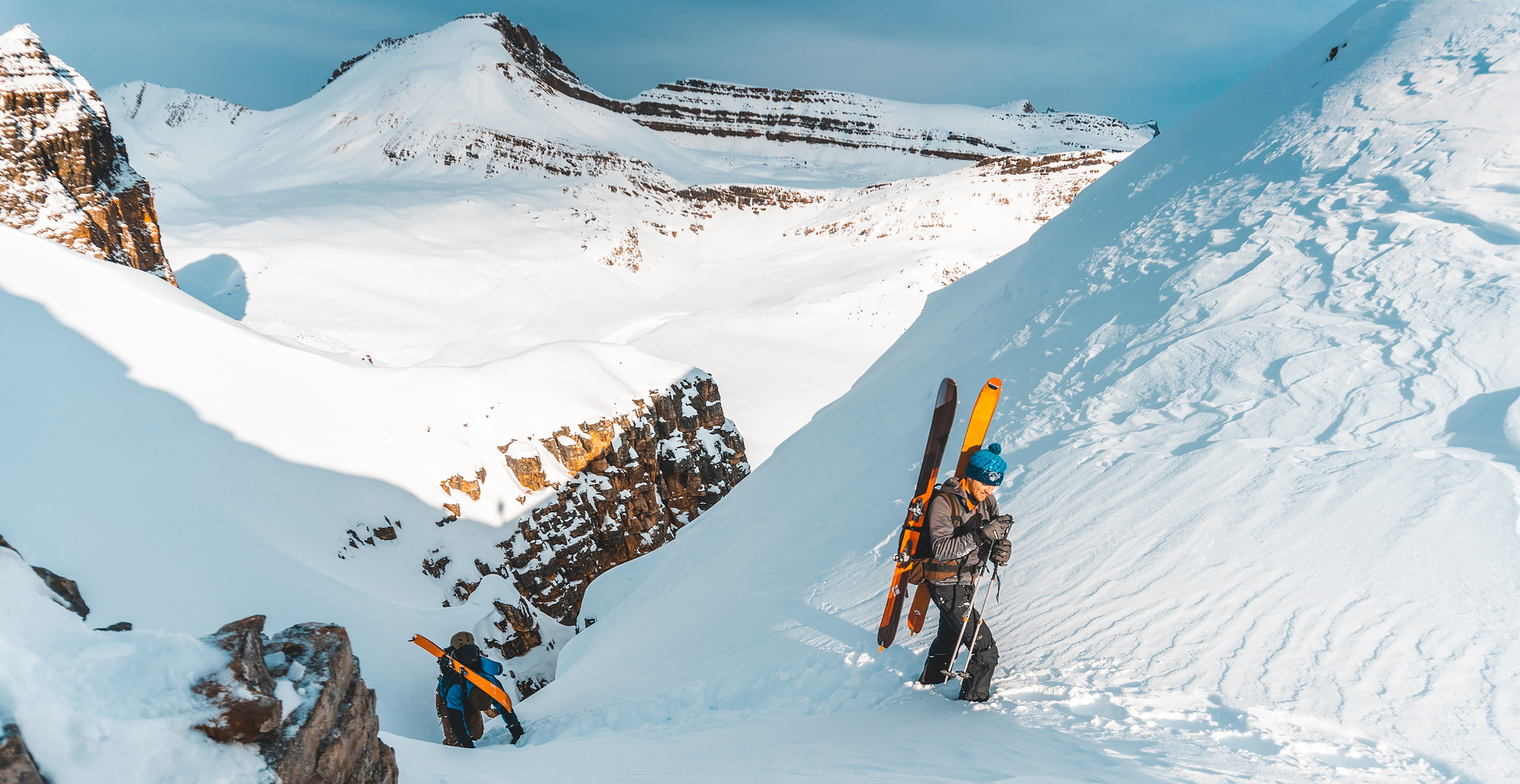 How does ski length affect performance?
Ski length will affect performance by determining how stable or agile the ski is. As a rule, longer skis will provide a much more stable feel on steep terrain or turning. Alternately, shorter skis will feel more "playful" and "poppy", but they are sometimes less stable, particularly in steep terrain. Shorter skis will be somewhat more agile in tight terrain, such as trees. However, this agility can also make them more prone to instability.
As a general rule, your ski length should approximately match your height. From there, you can choose slightly longer or shorter skis if you prefer stability or maneuverability.
What waist width ski should I get?
The size of waist (or underfoot width) for your skis depends heavily on the type of skiing you intend to do.
For extreme high performance uphill performance, a narrower and lighter ski is preferrable. People who primarily ski on groomers, or for glacier travel will also prefer a narrower waist. "Narrow" skis range from 95 down to as narrow as the low 70's underfoot.
For all-around performance and for steep/rough terrain, a mid-waist ski (such as 95-105) is likely the most versatile width on the market. This width of ski provides enough float to prevent sinking too deep on powder days, but remains nimble and controllable when the conditions get gnarly. The 95-105 width of ski will also remain relatively light for big days in the mountains.
For big mountain, deep powder, heli skiing, or other forms of big backcountry skiing in deep snow, a wide ski is likely the best choice. A wide ski will typically be 105 to 115 underfoot, with some brands offering huge skis up to 130 underfoot. These are extraordinarily fun to ski in deep powder, but big fat skis in the 120 or above range are utterly useless when the conditions get scratchy or choppy.
In general, anything above 110 or below 90 would be considered specialized. Everything in between falls loosely under "general use" for ski touring.
What are touring skis used for?
Touring skis are used for ascending terrain in order to ski down, without the use of lifts. Touring skis have specialized bindings which allow free or locked heel modes for switching between ascending or descending mode. Additionally, you attach specialized, sticky "skins" covered in one-directional hair for ascending the snow. These can then be removed and thrown in a backpack for descending in normal ski mode.
Touring skis have opened up the backcountry in the winter like nothing before. Touring skis have made massive mountains, wide glacier, and long traverses accessible and quick.
Can you put touring bindings on any skis?
You can mount touring (tech) bindings on any ski labelled for ski touring. However, not all alpine or resort skis are able to support tech touring bindings. This is either due to the construction of the core, or significant flex in the mid section which will make your boots rub on the rear binding tower when in touring mode. While some ski touring bindings are designed to mount on any ski, the majority of tech or pin bindings are designed specifically for alpine touring skis. Further, super light tech bindings should definitely not be used on non-touring specific skis as the lack of support beneath the binding could even lead to the ski breaking in certain conditions.
Can you ski downhill with skins on?
You can absolutely ski downhill with skins on, however it is not preferred as you lose a significant amount of control.
With skins, you have almost no edge, which means your skis will not corner easily. With skins attached, you might slide out sideways when cornering leading to a fall.
While skins will slow you somewhat on the downhill, they are intended to go forwards and you might find that you will not slow down nearly as much as you might have expected.
Just ski without skins
In summary, skins don't slow you down much, reduce cornering control dramatically, and boots in walk mode will result in a massive reduction in control. It is much more preferrably to learn to ski downhill through tighter trees or runs in ski mode. As you practice, you will become a much better skier in the long run. As you gain experience, you will be less afraid of those narrow and fast luge runs, and you will gain a ton of control and confidence.
---
Become a Patron!
---
Share this post
---
You may also like...