Purple Knob Ski Tour
~ By Jonny
Published January 1, 2021
Purple knob is an excellent ski touring zone near the southern end of the Smith Dorrien or Spray Lakes Road in Kananaskis Country. K-Country sometimes gets a bad rap for ski quality. However, when the snow is good in this zone, it is definitely one of the best and most accessible ski touring locations in the entire mid-rockies.
I've skied in this zone several times, and there are a ton of options on the west facing zone, and the back side as well. Purple knob, like Hero's and black prince, is a highly accessible zone with tons of skiing only a short 45-90 minute skin up from the car park along the road.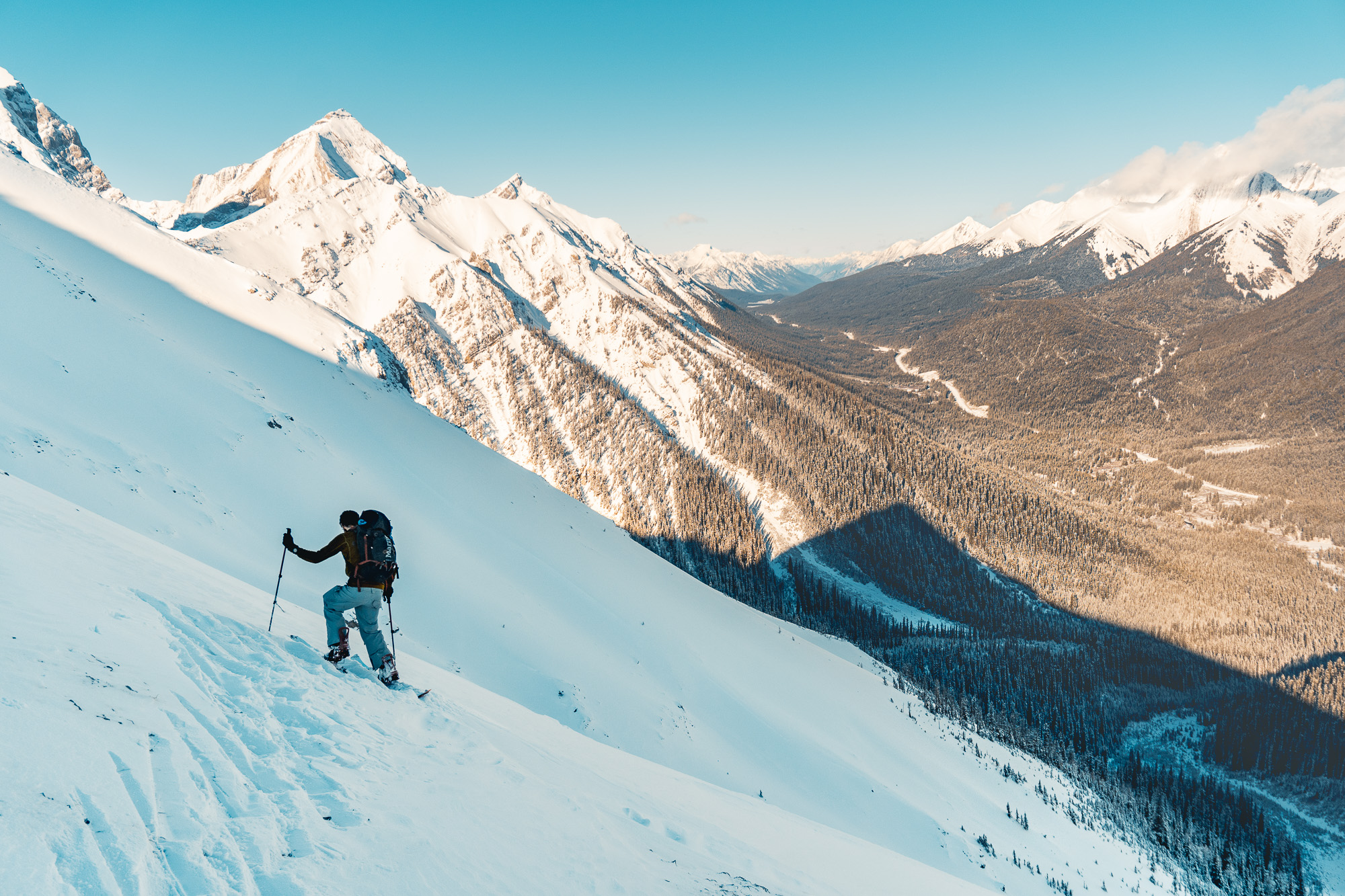 One of the main drawbacks of Purple Knob is that it often isn't in great shape until there is more snow later in December. Some years, even as late as January. It's worth waiting for the good snow, or you might end up hitting a lot of rocks.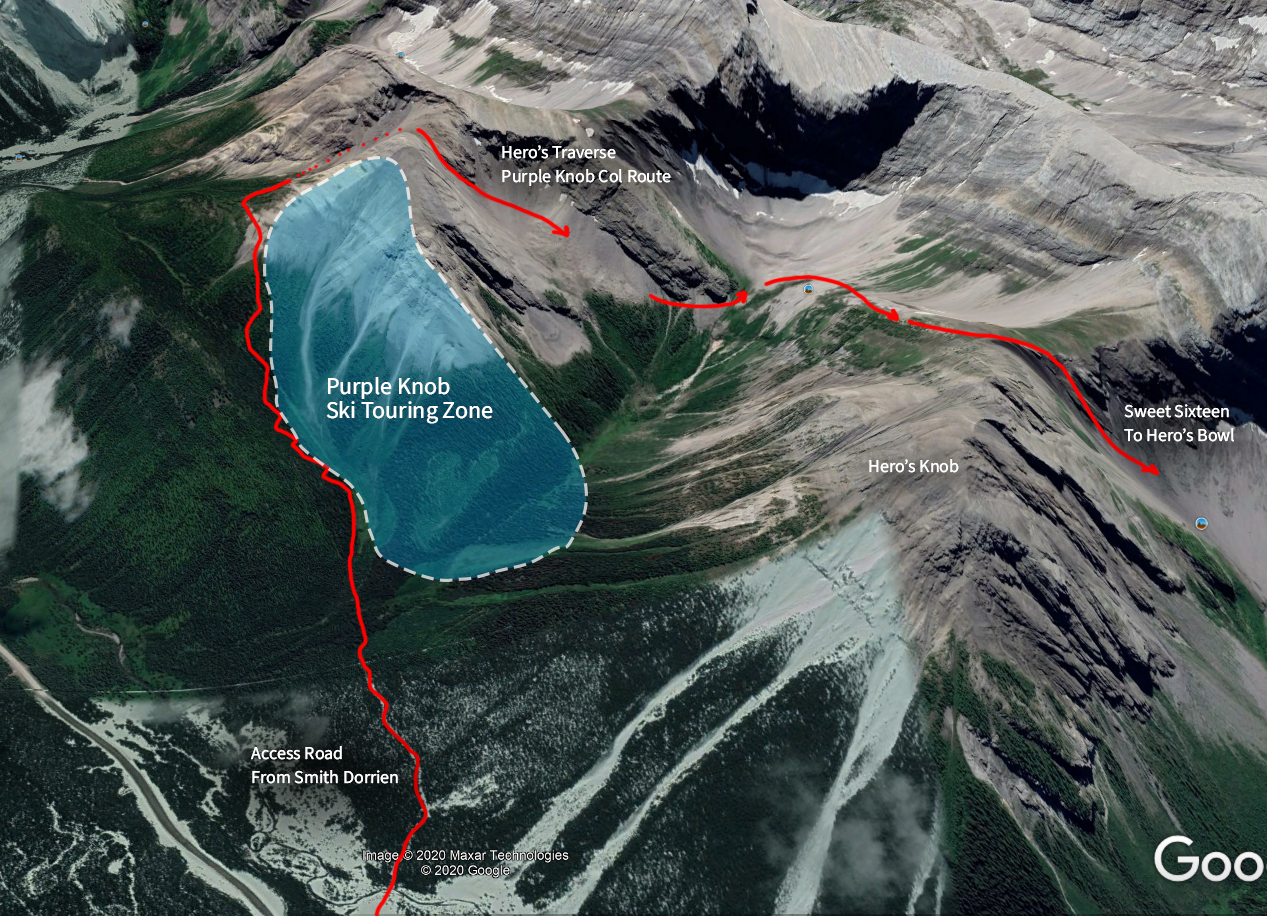 Accessing Purple Knob
To access Purple Knob (starting from Canmore), drive roughly 40km to the Sawmill parking lot. If you are doing the full hero's traverse, it is best to park here and skin south roughly 500m to a large clearing. If you are only skiing purple knob and returning the same way, you can park 1km further south. From here, cut straight west across the river and wide open meadow instead.
Either way, cutting across the clearing, there is an old road that makes for quick work of access to purple knob from the parking area. You can use this road to gain the purple/hero's bowl for the half-hero's traverse, or you can cut left after ~1-1.25 km to gain access to the purple knob zone.
A round trip from the road, with one lap of the main slide path lookers left is roughly 5km and around 600m of elevation gain.
There are multiple lines that you can ski here. The access takes a safe line up the left side of the main (large) slide path, lookers left of Purple Knob. From the top of the skin track, you can traverse clockwise around Purple Knob. This route gains access to mellow slopes on the back side, or the purple col to do the full hero's traverse.
Alternately, there are numerous slide paths on the East / Front Face of Purple knob. These slide paths have plenty of awesome terrain and mellow trees to ski. You can venture high when the snow is good for some steeper skiing with long runouts.
Caution should definitely be taken on these slide paths, as many of them are runouts for very BIG alpine avalanche start zones near the top of the knob. However, in good stability and with good snow, these are some of the best easy-access ski lines in Kananaskis.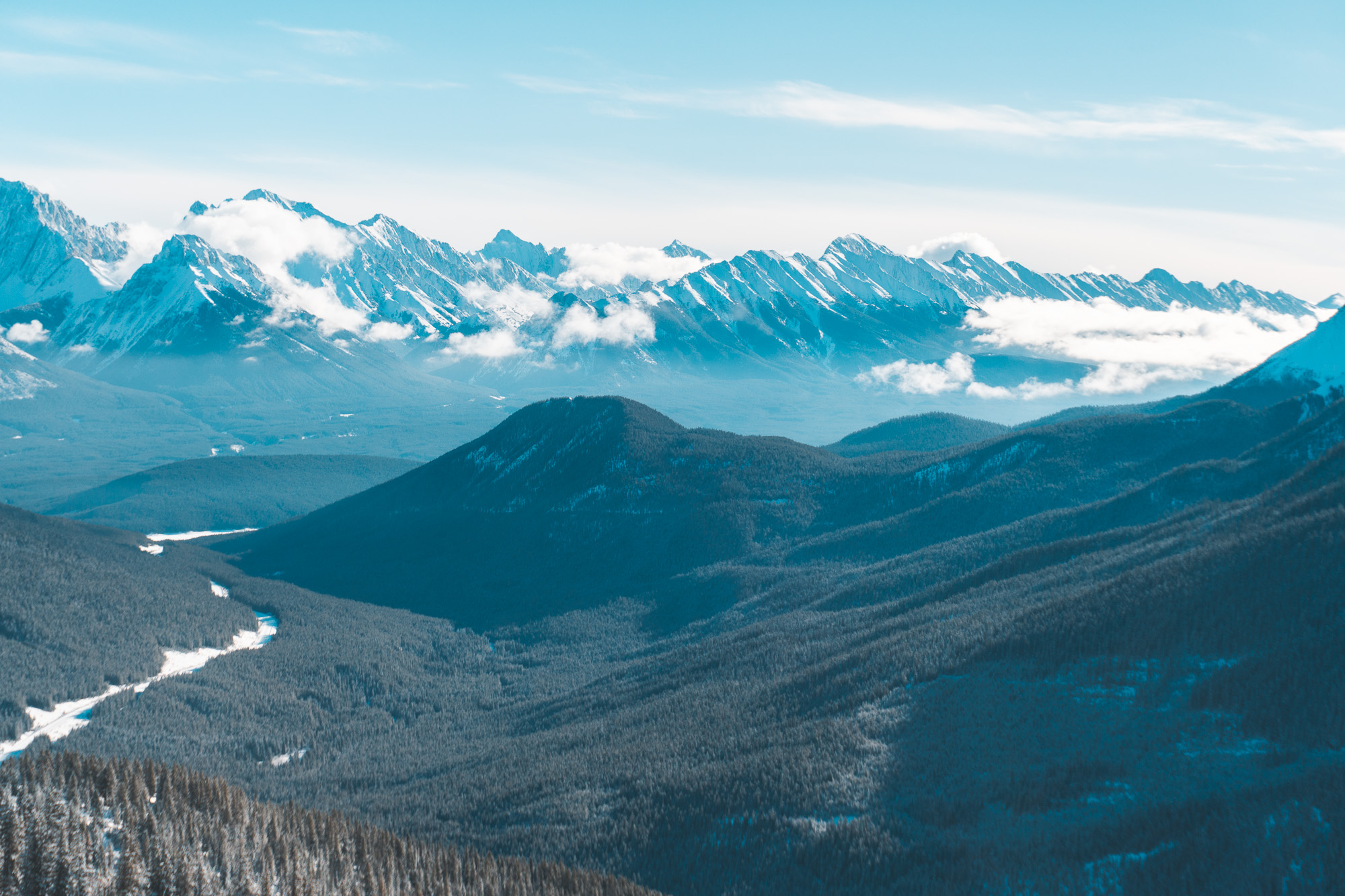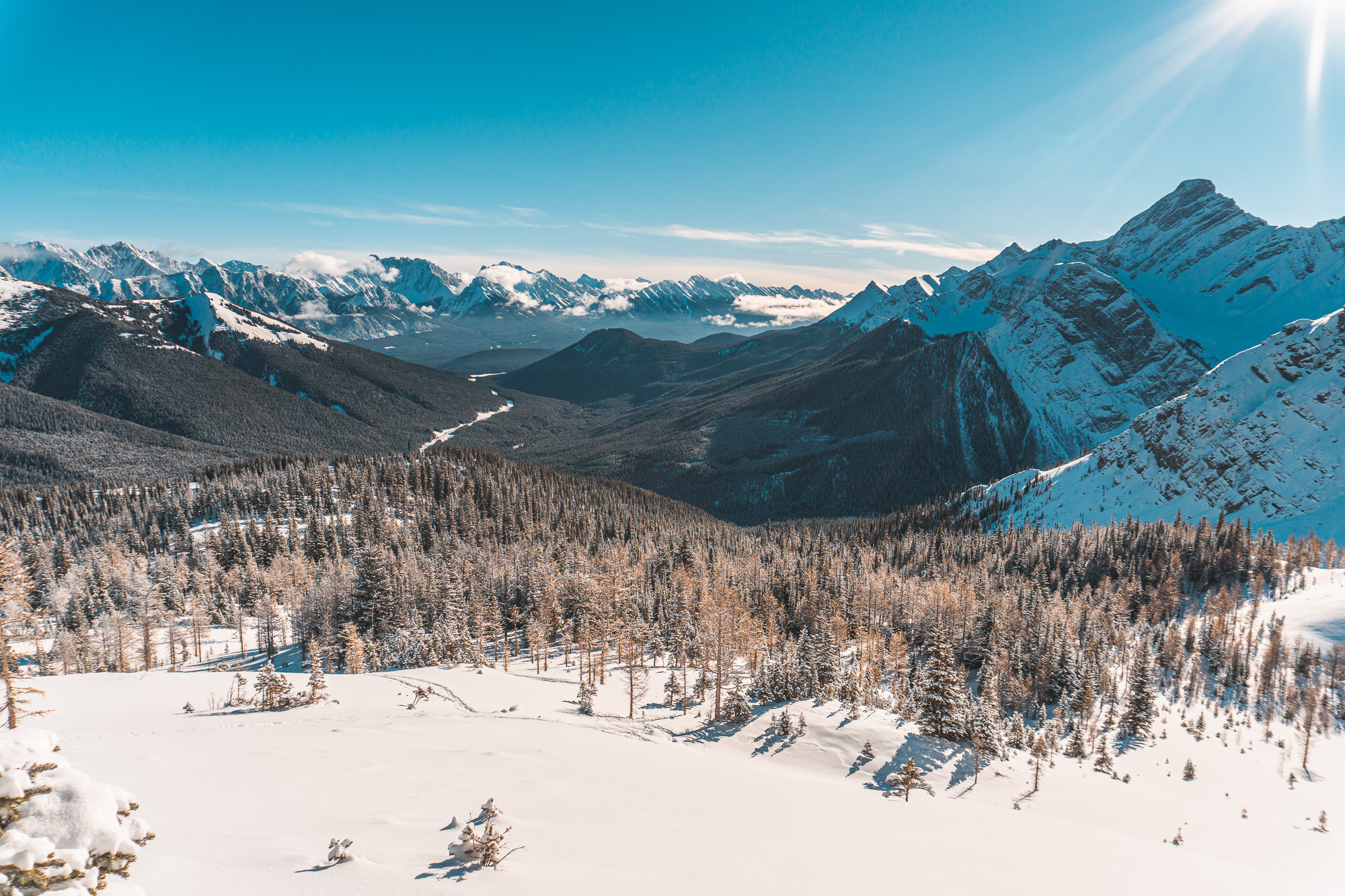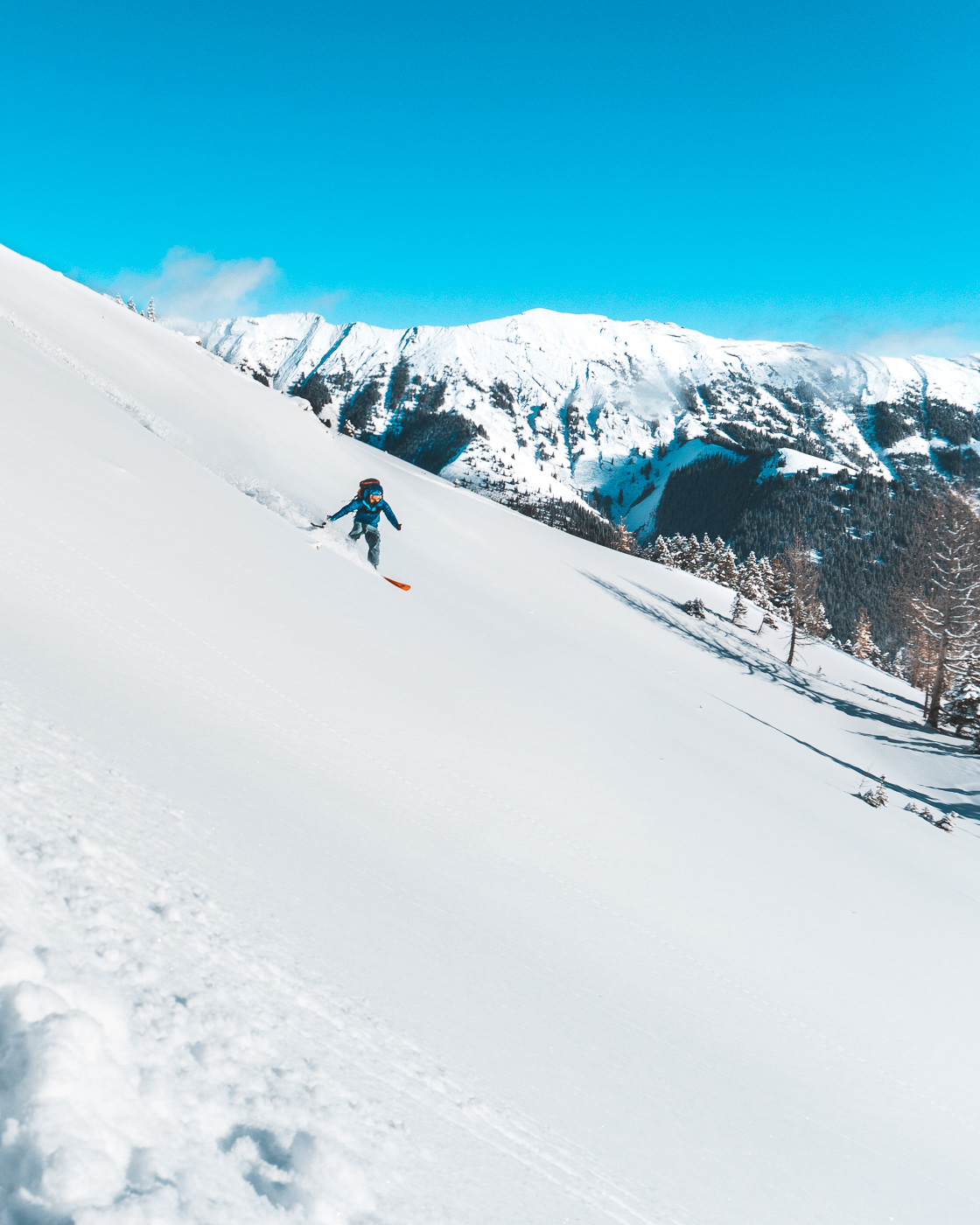 ---
Become a Patron!
---
Share this post