Tryst Chutes & Super Slope
~ By Jonny
Published November 21, 2018
Tryst Chutes are a very popular ski touring and backcountry skiing destination in Kananaskis Country, along the Spray Lakes / Smith Dorrien road. This area features a number of short chutes and lines facing north and a larger south-facing slope known as the Super Slope.
The short roadside approach, steep terrain, and easy access make this a popular destination on the weekends. You will often up to a dozen or more cars when avi conditions are low, and the sun is out. Even though this means the area is often skier compact, the steep nature of the terrain means avalanches are a concern here. The furthest slope from the road has slid many times across many seasons. The closer slopes are slightly less of a risk, but numerous accidents have happened in these chutes as well.
To access, head up the Spray Lakes road from Canmore to Engadine/Mt. Shark XC trails turnoff. Continue down the road for approximately 1-2 km until you are directly across from The Fist (just south of Mt. Shark proper).
Follow old skin tracks or trails towards West towards the obvious ridge leading directly up to "The Fist", which is the large Fist like mountain west of the road. You will eventually top out on the ridge, and will see the obvious Tryst Chutes on your right, and the less obvious super slope glades on your left.
Super Slope is South Facing and should be approached cautiously when temperatures start to rise in the spring. Super Slope is a very nice run though, with a nearly unbroken 300m chute offering a nice line with typically good snow.
Approach: Approximately 3km+
Elevation Gain: Approximately 400m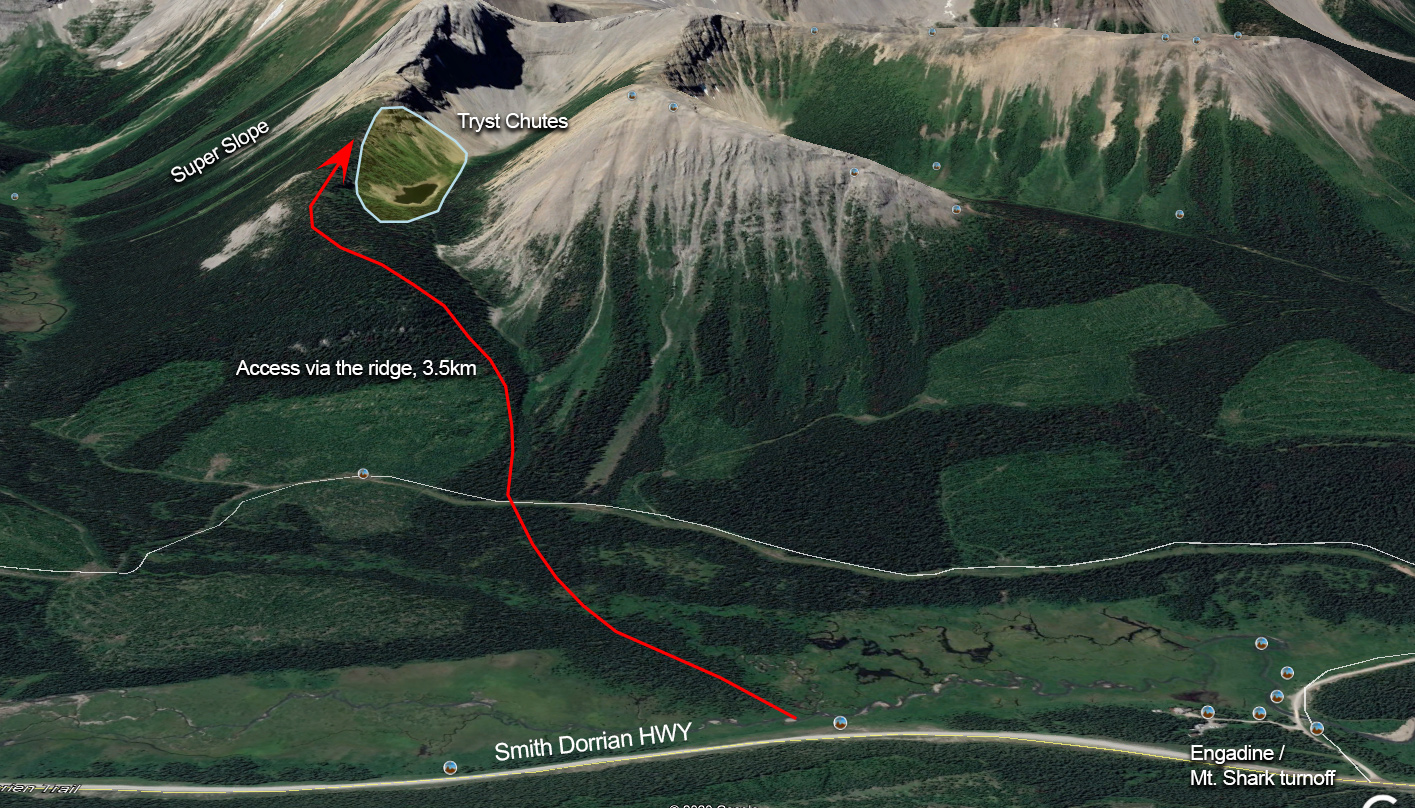 ---
Become a Patron!
---
Share this post
---
You may also like...